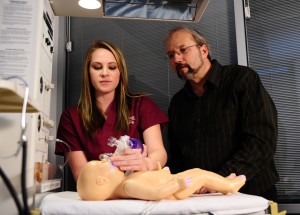 Sleepless night, my mind is racing. Alarm clock rings at 4:30 a.m. One hour to shower, change into scrubs and report to Newton Medical Center. Today is going to be a big one. First priority is the NMC surgery unit for a clinical rotation. A quick lunch break at 11 a.m., then back to campus by 2 p.m. On my feet all day, tired. Change into basketball uniform, van leaves in 30 minutes for a two-hour drive. Study on the way. Arrive in time for warmups and a 6 p.m. tipoff. Hard-fought game – physical. Score 27 points and grab 13 boards. Back to campus by 10 p.m. Study for an hour then fall into bed. Set the alarm, tomorrow will come quick.
Sound busy? It is. Difficult? Yes. Is it manageable? For the right person, yes. Rewarding? Without a doubt.
Such is life for 19-year-old shooting guard Mishaun Pfannenstiel, Inman, Kan., who just completed her freshman year in the nursing program while starring for the Larks basketball team. And by the way, she led the team in scoring and finished twelfth in the country in National Junior College Athletic Association Division II, averaging 19.6 points per game.
"In high school my entire focus was on basketball," Pfannenstiel said. "Starting at Hesston, I quickly realized that balancing basketball and academics would be a big time commitment, and I had to manage my time well to be successful."
Pfannenstiel has found herself immersed in clinical training that has her on the fast track to fulfilling her career aspirations. She has a good path to follow, considering 100 percent of the 2010 Hesston nursing graduates passed the licensure exam on their first attempt. Pursuing Hesston's two-year program has meant managing a busier schedule than most student athletes, but Pfannenstiel makes it work.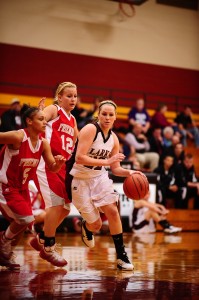 "I probably have a slightly different social schedule than other girls in my dorm," Pfannenstiel said. "I'd bet my usual 10 p.m. bedtime gets me to sleep before most of my friends here."
"Mishaun has the wonderful ability to take the concepts she is learning in the classroom and apply them to her patient care encounters," said Hesston nursing instructor Gregg Schroeder '86. "She makes connections between theory and practice that are outstanding for a first-year nursing student. It's apparent to me that Mishaun is thriving as she balances her athletic commitments with her academic requirements."
On the court, Pfannenstiel meant everything to the Hesston offense this season. In 30 games played she led the team in scoring 27 times and reached double-figures in all but two games.
Studying and playing at Hesston College has given Pfannenstiel the structure and support to reach her goals of working in a hospital or clinical setting in the future.
"This year has been a tremendous challenge for me, but I like challenges," said Pfannenstiel. "I'm proud of what I've accomplished. Hesston's campus has been like a big family to me. It's been a good fresh start."