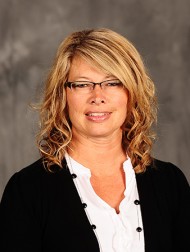 My faith and my art have been inseparable since I was a young girl. I realized at an early age that I had gifts for visual art and I enjoyed creating and designing. I received affirmation from my church congregation as they encouraged me to draw bulletin covers and paint murals, giving me a chance to create designs for a "real" purpose. Although I didn't realize it then, God was calling me to use my gifts for the wider church community for many years to come.
Many opportunities to create have come through church-related organizations, and the majority of my design career has been spent at Hesston College. I am deeply grateful and thankful for the 17 years I have been able to share my gifts as a graphic designer at Hesston. It has been a privilege to create designs for a place where students are educated and nurtured within a Christ-centered community. I have designed a wide variety of items, including this magazine, and have learned a lot from the faculty, staff and students in this campus community. I am amazed and thankful for the ways God has guided me in my visual creations, and how my designs consistently intertwine with my faith experiences. I have come to believe that my visual art is an act of worship and offers praise to God.
After 13 years as lead pastor at Tabor Mennonite Church (Newton, Kan.), my husband, Corey, has accepted the position as lead pastor at West Union Mennonite Church in Parnell, Iowa. I will miss the Hesston College community as my family follows God's call. We ask for prayers as we say goodbye to Kansas and learn to love a new community. I know there are many connections between Hesston College and southeast Iowa, so I look forward to keeping in touch. Who knows, maybe our oldest daughter will come back in four years as a student.