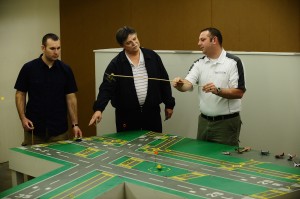 Air Traffic Control is not a career path for the faint of heart, and in the aviation field it sometimes gets overlooked for the "cool factor" of being a pilot. The first seven graduates of Hesston College's Air Traffic Control program, however, successfully completed the demanding curriculum and are ready for the fast pace of work in a tower.
"This group of students showed a high level of motivation and dedication for the demands of the program," said Dan Miller '78, director of Aviation.
The Hesston program, like the other 35 FAA-approved Air Traffic Collegiate Training Initiative (AT-CTI) programs across the nation, has high standards even when considering applicants for the program.
"Air traffic control takes a certain personality as well as high scores on the math section of the ACT or SAT," said Miller. "The job demands attention to detail, discipline, composure in a dynamic environment, a sharp memory and the wherewithal to make accurate decisions."
The program provides appropriate education, experience and training to prepare students to enter the Oklahoma City program, where there is no guarantee of earning a spot. Students must receive an invitation from Oklahoma City, and entrance is based on a points system. Applicants earn points for successfully earning a degree at an AT-CTI school, having a private pilot's license and other flight training and a score of 70 percent or better on the Air Traffic Selection and Training exam. As a credit to their Hesston training, all seven students scored above 70 percent.
Aside from the FAA's requirements, the Hesston program requires certain standards as well. Students must complete the associate of applied arts and sciences degree in good standing, earn an 80 percent or better in ATC classes and obtain their private pilot's license.
As the students graduated, they were confident in the training they received.
Ryan Sprunger '11 of Dalton, Ohio, appreciates the opportunities students have to put their learning to practice.
Sprunger, who continued his family's aviation legacy – his father Jedd '80 and brother Grant '08, also received flight training from Hesston – said visiting different types of towers and practicing clearances, approaches and departure instructions in the campus' computer and table model simulation labs was valuable.
Jerry Holloman '11 earned his private pilot license and bachelor's degree from Kansas State University-Salina, which allowed him and three other non-traditional students to expedite the program and complete the training in one year.
"The faculty worked with us, and we were able to do semester-long classes in eight weeks," he said.
With a wife, Shelby, and daughter, Piper, balancing the program with family wasn't always an easy task, but Holloman succeeded and passed the AT-SAT with an 87.5 percent, which the FAA considers well qualified.
"These students came with an attitude of success," said Miller. "Our mission was to equip them with the background and experience they need to continue being successful."