The Hesston College community lost two influential men in April. Alfred "Al" Yoder, 83, of Hesston passed away April 3 after a battle with esophageal cancer. Lyle Yost, 99, of Hesston passed away April 5. Both men displayed passion in their endeavors, inspiration through their successes and a love for their alma mater.
Alfred "Al" Yoder '48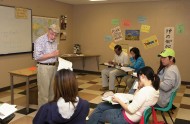 Al Yoder was more than an instructor – he was a mentor, father figure and friend.
Al served in various roles at Hesston College for 25 years including teacher education instructor, co-director of the Title IV program and English as a Second Language instructor.
He attended Hesston College in 1947-48, and started his teaching career in one-room schools in Missouri alongside his wife, Irene (Hershberger) Ac50, '52. He then taught in Glenwood Springs, Colo., before moving on to administration and serving as an assistant elementary principal in Denver. After returning to school, he worked at the University of Wyoming (Laramie) Laboratory School where he developed curriculum and innovative teaching techniques before returning to Hesston in 1974. He served as the principal at Hesston Elementary School and curriculum coordinator for USD 460 before transitioning back into teaching when he joined the Hesston College faculty in 1980.
Al began teaching ESL classes in 1990, just as the college became part of the Cooperative Association of States for Scholarship (CASS) program, which hosted economically disadvantaged Central American and Caribbean students to prepare them for successful careers in their home countries. For 15 years, Al was the primary instructor to teach English and American culture to hundreds of international students. He helped establish an atmosphere for international students to feel safe and encouraged as they integrated with a new culture and language.
"Al was not afraid to entertain new ideas or to have old ideas challenged," said Gerry Selzer Ac63, '65, Al's colleague at both USD 460 and Hesston College. "He truly understood how learning happens."
Al is survived by his wife, Irene, daughter Melody Meyer and husband John of Chicago, Ill., grandchildren Zachary Meyer '11 and Sarah Meyer.
Lyle Yost Ac31, '35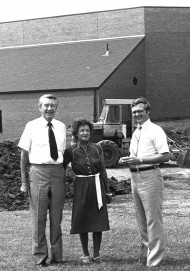 The city of Hesston and Hesston College benefitted greatly from the influence and investment of Lyle Yost over many decades. Lyle is best known in Hesston as the founder, chairman of the board and CEO of Hesston Manufacturing, which later became Hesston Corporation, and is now AGCO, an internationally-recognized farm equipment manufacturing company.
Lyle's influence and generosity reached beyond the city level to the college as well. Lyle and his wife, Erma (Martin) '35 Yost, were strong supporters of the college, contributing ideas and finances over the years. They gave the lead gift for the main gymnasium, which was named Yost Center in their honor, and has been home to Lark basketball and volleyball since 1982.
He also served as chair of the college's first Board of Overseers from 1961 to 1966. He worked with then President Tillman Smith '23 in many important areas, including merging Hesston Academy with the public high school and preparing for the college's initial accreditation by the North Central Association of Colleges and Schools.
"Lyle was generous with his church, the college and many other community ventures," said President Howard Keim '72. "He took a personal interest in the organizations he supported and has been described by many as an encouraging friend. We have lost one who helped Hesston become a wonderful place to have a college, a generous supporter and a good friend."
Lyle was preceded in death by his wife Erma, a daughter and a granddaughter. He is survived by sons Byron Ac62 and Beth Yost, Castle Rock, Colo.; Winston Ac64, '66 and Cheryl Yost, Larkspur, Colo.; Cameron and Miriam Yost, Colorado Springs, Colo.; daughter Susan Yost Ac66 and C.W. Crumm, Hesston, Kan; five grandchildren and four great-grandchildren.