Words like sustainability and green have become increasingly prominent as environmental issues become more of a societal priority. Fortunately at Hesston College, they are becoming almost as familiar as "heilsgeschichte," "Larks Nest" and "Druber's."
The college has taken several steps toward becoming more environmentally conscious in recent years. Here are some of the ways sustainability practices are being implemented at Hesston College: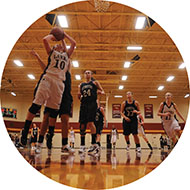 2002 The college begins making energy saving improvements including window and roof insulation, installing motion-sensor lights and converting light bulbs and fixtures to more efficient fluorescent applications.
2007—July The college sees a 23 percent decrease in natural gas use and a 20 percent decrease in electricity use from 2002 to 2007. An energy audit shows the college's combined energy cost is 97 cents per square foot as compared to $1.30 to $1.90 per square foot at most other Kansas colleges and universities.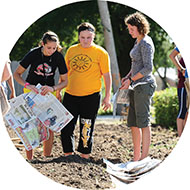 2007—September Jim Mason, director of Campus Facilities, presents on the college's energy saving efforts at the International Energy Council's annual meeting by invitation from Kansas Sen. Carolyn McGinn (R-Sedgwick).
2010—Spring The Intergenerational Community Garden, led by faculty members Lorna Harder and Dwight Roth, is started as a joint effort between Schowalter Villa and Hesston College.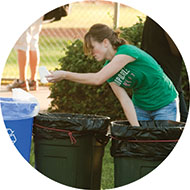 2010—Fall The First Year Experience seminar begins a campus-wide recycling initiative by placing reminder signs on trash cans and recycling bins around campus. Due to the class' efforts and the college's switch to single stream recycling service, trash production decreases by 40 percent, and recycling increases by 66 percent.
2011—April Faculty member Karen Sheriff LeVan presents a 10-Day Give challenge to students, encouraging them to donate any unwanted items instead of throwing them away. The project's success cuts in half end-of-the-year trash.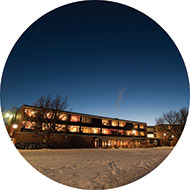 2011—May Furniture from Erb Hall central and west dorms is donated to 20 non-profit organizations in Waco, Texas.
2011—August The annual faculty staff retreat focuses on renewal and sustainability, including sessions on renewing relationships with God, self, others and the environment, a lunch of local food and use of reusable table service.
2011—Fall The First-Year Experience seminar spearheads sustainability efforts beginning with a common read, No Impact Man by Colin Beavan (Picador, 2010).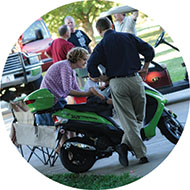 2011—September The First-Year Experience seminar organizes the college's first No Impact Week. Each day has a different focus, including consumption, trash, transportation, food, energy, water and eco-Sabbath – a day for self-renewal.
2012—February Led by the Campus Stewardship Group formed during the fall 2011 semester, Hesston College becomes a member of the Association for the Advancement of Sustainability in Higher Education.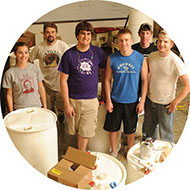 2012—April David LeVan's Entrepreneurship class creates and operates Menno Barrel. The student-run business manufactures and sells 55-gallon rain barrels from recycled food-grade drums. The class sells 58 barrels for a profit of about $1,800, which is donated to Mennonite Central Committee.
2012—May The second 10-Day Give collects more items for donation than the previous year. The dumpsters provided for trash are all less than half full.