Roby Miller '07 is a curious problem solver, so in 2009 when two small, rural Iowa pharmacies owned by his family closed due to an inability to support and sustain themselves, Miller started looking for a solution.
"I never wanted to be in the pharmacy industry because I saw that the business model was not working," said the business-minded Miller. "But when there is a problem, there is always a solution."
Despite his initial hesitation, Miller is now fully immersed in the pharmacy industry – just not in the traditional sense.
As the founder and CEO of TelePharm, a cloud-based software that enables pharmacists to remotely verify prescriptions and counsel patients from any location, the young entrepreneur is helping change the outlook of small-town pharmacies and clinics nationwide.
TelePharm, launched in 2012 and based in Iowa City, allows pharmacy services to exist in underserved areas where the traditional model is not economically viable. TelePharm's remote capabilities allow pharmacies to operate without a pharmacist on site and share pharmacist payroll costs between stores. This model empowers businesses to operate at lower costs while continuing to provide professional services.
"There was no business model for small-town pharmacies," said Miller. "I recognized the market and product opportunities and just went for it. I built the first application myself and realized this was something that was going to work."
At the time, Miller was working for Pearson, an international media company in Iowa City, but when he realized his product's potential, he quit his job to focus on his new venture.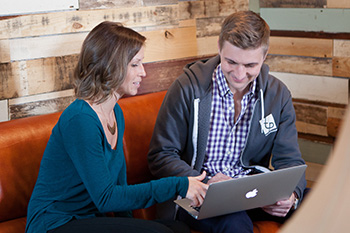 The idea not only took off, it exploded. In 2014, Iowa entrepreneurship icon John Pappajohn and state Board of Regents President Bruce Rastetter invested a total of $2.5 million in TelePharm. The company has also received several state grants and was recognized by Iowa governor Terry Branstad for its innovative answer to the problems facing rural pharmacies and clinics.
The investors' confidence in his company has allowed Miller to expand to a staff of 16 employees covering several states. Miller himself works with product direction and larger sales (as well as janitor and anything else lacking resources, he joked). Within the next year, Miller hopes to develop two or three products focusing on workflow and expand his reach to 15 to 20 states. A patent is pending for the TelePharm service model.
His innovation and success has also earned him several awards and recognitions, including Corridor Business Journal's 2013 Forty Under 40 award, for which he is among the youngest honorees in the history of the award.
Miller's successes are a tribute to the hard work and dedication he pours into work – an attitude influenced by a mentor nearly ten years ago as an exploring college student.
Miller stumbled into the business world at Hesston College. When he graduated from Iowa Mennonite School (Kalona) and arrived at Hesston he was, like many young college students, uncertain about his career. He thought he might pursue a major in the medical field. After taking a business class and getting to know longtime Hesston faculty member Bill Mason, Miller's path turned to new pursuits.
Mason and Miller met one semester for an independent study where they read and discussed business books. The importance of continually learning and discovering is a lesson that has stuck with Miller, and he continues to read a business book about every two weeks.
"Hesston was a good influence to help me choose my path," said Miller. "I was interested in business, but the excitement and experiences Bill shared with me were what committed me to business."
After Hesston, Miller earned a bachelor's degree in entrepreneurship from the University of Iowa Henry B. Tippie College of Business (Iowa City) and a certificate in advanced product management from Stanford (Calif.) University.
Miller's entrepreneurial success has led him to take an interest in other young entrepreneurs. He, along with two colleagues, is co-founder and managing director of Built by Iowa, an early stage fund created to help fledgling technology start-ups primarily in Iowa but also nationally.
Having established a solid foundation and experienced the real-life challenges of launching an idea and company, Miller remains committed to hard work.
"In order to be a successful entrepreneur, you have to be the hardest working person you know, and if you're not, you're losing to the competition," said Miller. "You don't really know what you're capable of until you try."