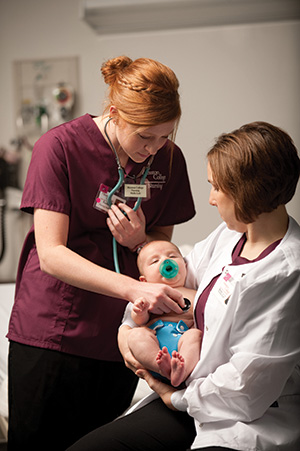 Beginning in August, Hesston College will be the only college or university in Kansas where students may choose to pursue either an associate (ADN) or bachelor's degree (BSN) in nursing.
"The healthcare industry is changing, and the college is adding the BSN so its students and alumni will be highly prepared and employable," said Bonnie (Kauffman) Ac65, '67 Sowers, nursing program director.
A bachelor's degree program is new territory for the college, but one that is a logical step for nursing. The impetus behind the change stems from a 2010 report from the Institute of Medicine that set a national goal of 80 percent of the nursing workforce having a bachelor's degree by 2020. Likewise, according to the American Association of Colleges in Nursing, Hesston alumni and other two-year graduates nationwide are pursuing bachelor's degrees in increasing numbers.
With the industry shift, both ADN and BSN options are needed to meet employer demands and industry standards, said Sowers.
"Placement options for clinical training are being limited for some associate degree programs at a number of major medical centers," said Sowers. "The BSN program will allow Hesston College to continue providing nursing students with exceptional clinical learning opportunities."
Discussion toward a BSN offering began in the summer of 2013. Nursing faculty diligently researched necessary additions for creating a four-year degree curriculum as well as steps to gain approval and accreditation. The college's Board of Directors granted approval to pursue accreditation and state approval following the September 2014 meeting. Following a two-day site visit, the college received approval from the Higher Learning Commission in early February. The Kansas State Board of Nursing authorized the final approval necessary to start the program March 25.
The BSN program will launch in August 2015 for students who will begin their first of four years at Hesston, as well as those who will have completed the 60 hours of required college course work and are ready to begin their junior year of nursing. The college anticipates launching an RN-to-BSN program in the fall of 2016 or 2017 for students who have their ADN and are looking to earn a bachelor's degree.
Adding juniors and seniors to the student population does hold implications for many aspects of campus life. The college's leadership is well underway with discussions for making adjustments while maintaining the essence of the Hesston Experience.
"The nursing program has been one of our strengths for decades, in terms of both the number of students served and quality of instruction," said Brent Yoder '98, vice president of Academics. "Hesston will still be a place that focuses on the first two years of a college education, but we are excited to meet the needs of students who want to broaden their understanding of the nursing profession and obtain advanced credentials."
Much more can, and will, be said about Hesston's new BSN offering. Watch for the Summer 2015 issue of Hesston College Today for more information about this exciting addition and what it means for Hesston College.