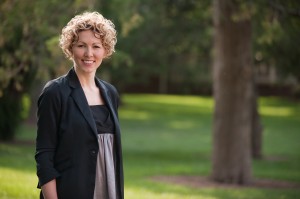 Education after Hesston: B.A. in communication from Goshen (Ind.) College, M.A. in communication from Wichita (Kan.) State University, Ph.D. candidate in leadership with emphasis in higher education administration through Andrews University (Berrien Springs, Mich.)
Tell us about your career.
My life's theme since I was at Hesston is encompassed in the college's 2010-11 theme verse – it has been beyond expectations, and I am so grateful.
Everything I did after finishing as a Hesston College student was to build my resume to return as an admissions counselor, which I did in 2002. While in Admissions I was also the assistant volleyball coach, on staff council and coordinator for Student Ambassadors and the Bills and Normas.
My dream job was to be a communication professor at Hesston, but I knew I needed my master's degree. I got a graduate teaching assistantship at WSU and was also the debate team assistant coach. I then served as Associate Director for Convention Planning for Mennonite Church USA from May 2006 to August 2009, when I became Director.
I begin Aug. 1 as Vice President of Admissions and Financial Aid at Hesston. I am excited about returning to Hesston College.
How did Hesston help determine the path of your life and career?
Before Hesston, I was never confident that my skills or gifts would fulfill a need for the church or an organization like Hesston College. Hesston was the place I realized I have unique talents. I learned time management, discipline and accountability. I also benefitted from being in an environment where I could begin to call my faith my own.
What are your greatest career accomplishments?
I strived to bring Mennonite Church USA conventions to a new level. I was in charge of planning Pittsburgh (Pa.) 2011 and I took a lot of leadership with Columbus (Ohio) 2009 and San José (Calif.) 2007. I offered new ideas and worked with Intercultural Relations to make multicultural events a priority, which resulted in "We Are the Church Day" – a chance to recognize gifts and talents of ethnic brothers and sisters – in Pittsburgh.
What do you hope to accomplish in your new role?
I want the Admissions department to be able to articulate the value of Mennonite higher education – for Mennonites and non-Mennonites. We have so much to offer. I want to make people aware of the high caliber of instruction and education that happens at Hesston.
What do you think of Hesston's #2 ranking?
Finally, someone noticed! The ranking doesn't surprise me in the least. Hesston was an academic launching pad for me. It transformed who I was as a student. I was supported and discovered what I need to be successful. I learned to love learning.