On a day designated as Founder's Day, Nov. 23, 1979, Hesston College administrators named the following four leading spirits "founders" of the college.
A.L. (Abraham Lincoln) Hess
Abe Hess was born near Ephrata, Pa., in 1861. He and Anna Pfautz Hess migrated to the Kansas prairies in 1884 in the company of some 20 extended family members. Abe and his brother Amos immediately bought a half section of 320 acres in Emma Township and soon purchased more land. On their land they platted a town, called Hesston, in 1886, and sold commercial and residential building lots. They lobbied successfully for a depot—often the key to prosperity—on the St. Louis, Fort Scott & Wichita Railroad, later acquired by the Missouri Pacific Railroad.
Hess was resolute, sometimes impetuous, and ever practical. He was a farmer, landowner, bank director, and partner in various local enterprises. Generous to a fault, Hess was well situated to offer 80 acres of land that helped draw the college to Hesston. He was a member of the school's first executive committee and until he died in 1920 at age 59, Hess was Hesston College's major benefactor.
T.M. (Tilman Mahlon) Erb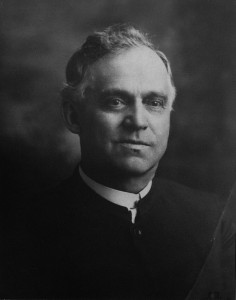 Born near Mt. Joy, Pa., in 1865, T.M. came to Kansas with his parents, Jacob and Leah Erb in 1885. A year later, T.M. married Lizzie Hess, a sister of A.L. Hess. In 1893, Erb was ordained a minister at the Pennsylvania Mennonite Church, where his father served as the first deacon. In 1898, T.M. was ordained a bishop, which gave him oversight responsibilities for several congregations.
T.M. was moderator of the Kansas-Nebraska Mennonite Conference when the assembly acted in 1907 to establish a college on the western prairie. As a member of the Mennonite Board of Education, he carried the resolution to the next meeting of the board. With the board's endorsement, Erb explored possible sites and helped select Hesston. He was then appointed business manager and given the responsibility to see that the school was organized, staffed, funded, and built.
Erb was also a farmer, creamery operator, and entrepreneur. He led the city in its incorporation in 1921 and served as the first city council president. As a business leader, he was described as "courageous, honorable, and highly esteemed."
T.M. Erb was Hesston's primary founder, chairman of the school's first executive committee, and served as its chief financial officer until he died in 1929 at age 63.
D.H. (Daniel Henry) Bender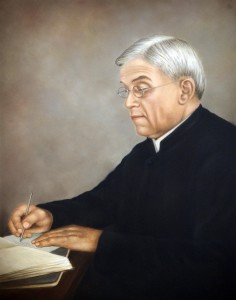 D.H. Bender was born near Springs, Pa., in 1866. He graduated from normal school at age 14, began teaching at 18, and at 34, he became principal of Grantsville, Md., schools.
As a church statesman, he was widely known and respected. In 1887, at the age of 21, he was ordained a minister at Folk Church, Springs, Pa., and soon became a popular speaker in congregations and at conferences across the church.
He was known also as an editor of the major church periodicals, beginning with the Herald of Truth, under John F. Funk at Elkhart, Ind., in 1904. Bender moved to Scottdale, Pa., in 1906 to become office editor of the Gospel Witness, and then of the Gospel Herald when it became the new official periodical of the Mennonite Church by merger of the two preceding papers in 1908. He wrote Sunday school lessons for children and adults, beginning with the Advanced Sunday School Lesson Quarterly in 1903.
He had served in leading capacities on many committees and church boards. He assisted in the organization of the Mennonite General Conference in 1897, and the boards of education in 1905, missions in 1906, and publishing in 1908. Bender's was a household name. In 1908 he became the founding principal of Hesston Academy and Bible School.
When Bender was named principal, "the big trio" that would launch and lead the school was in place: Bender, the principal, T.M. Erb, the business manager, and A.L. Hess, the chief benefactor. Bender served as principal/president until 1930. He died in 1945 at the age of 79 in Albany, Ore.
J.D. (John Denlinger) Charles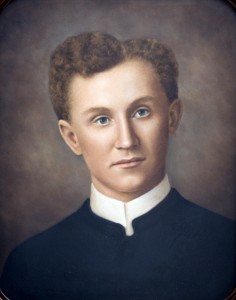 Born in 1879 in Manor Township in eastern Lancaster County, John D. Charles had a special aptitude for learning. Atypical of Lancaster County youth, Charles announced to his parents that he didn't want to farm, but wanted to go to school to become a surgeon. His shocked parents, who could not imagine a Mennonite surgeon, prevailed on him to change his mind. Well, then, could he become a teacher? he asked. To this his parents agreed. So he walked daily to Millersville Normal School and completed the teachers' training curriculum. After teaching at a local elementary school for a few years, he earned a bachelor of arts degree at Franklin and Marshall College in Lancaster. But after graduating, Charles, "at loose ends," turned down teaching opportunities and became a traveling hardware salesman.
His travels took him to Kansas City, where he attended a preaching service at the Kansas City Mennonite Mission that changed his life. Sitting under the bold preaching of Joseph F. Brunk, Charles heard the one-armed preacher tell him that he was a "Jonah" running away from "Nineveh." J.D. Charles became the next superintendent of the Kansas City Mission in 1906, and was ordained a minister by Bishop T.M. Erb, May 4, 1908.
D.H. Bender was impressed by Charles' "scholarly attainment and soundness of faith," and was "convinced he was the man I was looking for." Charles taught science and Bible and became the first dean. He earned a master's degree from Columbia University in 1914. He was the primary writer of the 1921 Garden City confessional statement Christian Fundamentals. He died an early death of cancer at age 45 in 1923.