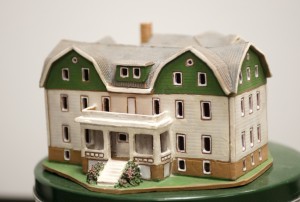 Quilts, belt buckles, and a silver tea set are just a few of the items that will be up for sale at the Heritage Auction during Hesston College's Centennial Homecoming Weekend. Beginning at 1:30 p.m. in Yost Center on Saturday, September 26, the auction will feature items donated by alumni and friends of Hesston College. And, while most of the auction pieces will commemorate the past, the proceeds of the auction will contribute to the Erb Hall renovation and living quarters of Hesston students for years to come.
One auction donation guaranteed to get some attention is a quilt made for the Academy Class of 1936, complete with the names of all the graduates and the faculty. This quilt was made for class member Eunice Wilma Diener by her mother, and was donated by two nieces, Phyllis Stutzman and Shirley Barker.
In 1968, when Tilman Smith retired as president of Hesston College, a women's group from Hesston Mennonite Church gave his wife Louella a silver tea service. That set will be back at Hesston College for the auction, donated by their son John. John also donated a souvenir level commemorating the 15th anniversary of Hesston Mill & Elevator (R.S. Troyer & Son; no date given); and a nail apron labeled "Noble Carpenter Shop," with the imprinted names of Russell Bell and John Reschly.
Belt buckle collectors will be pleased to note two buckles donated by Royce Brunk—one from the city of Hesston's Centennial 1886-1996, and one from the 75th anniversary of Hesston College. Other items donated to date for the auction include a doll made by Clara Kauffman, a quilt made by Hesston Mennonite Church Dorcas Circle that was purchased at the college's 75th anniversary quilt auction; two 50th-year graduation anniversary plates; limited edition Green Gables candle houses and ceramic mugs, and a signed copy (by Roy and Mary Miller) of A Pillar of Cloud, the fifty-year history of Hesston College, written by Mary Miller in 1959.
Anyone interested in making a donation to the auction may contact auction chair Pam Gerber at gerberpam@gmail.com or Bill Zuercher at billz@hesston.edu. To view sale items, visit the Hesston College Centennial page.