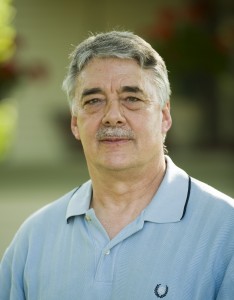 Along with the entire Hesston College family, the city of Hesston eagerly anticipates the celebration of the 100th anniversary of the founding of Hesston College. We look forward to welcoming many friends and graduates who will return to Hesston to participate in this significant event.
As plans for the well-deserved celebration unfold, it seems appropriate to reflect on the importance of the college to the city of Hesston. My observations are those of one who didn't attend Hesston College. I did not have the "Hesston College experience" that thousands have had. Yet, I have come to carry a deep admiration and respect for the institution.
Having lived in Hesston for the past 30-plus years, I've come to appreciate profoundly some qualities that I find to be woven into the fabric of this community. These qualities can be found most anywhere. But the blending and the strength of these elements, I believe, marks the Hesston community in a distinct manner. A partial listing of those qualities would include:
* a powerful commitment to quality education at all levels
* a keen appreciation for beauty, whether it is found in the Kansas prairie, in people's lawns and gardens, in music, or in the visual arts

* a heightened sense of civility that enables us, in a growingly diverse community, to work through the bumps and turns of civic life while maintaining respect and appreciation for one another

* a progressive sense of optimism and a "can-do" spirit that has unleashed awesome entrepreneurial energy
Could these qualities be found, at least to some degree, among people living in Hesston prior to 1909? Likely so. Absent Hesston College, these past one 100 years, could these qualities be found among our residents in 2009? Certainly. Nevertheless, I'm convinced that the presence of Hesston College has helped to shape, strengthen, and nurture these qualities in ways not easily measured.
Hesston College brought highly educated faculty and staff from a wide variety of places and backgrounds. The students, too, came from far-flung places to this small Kansas town. Students encountered a curriculum immersed in the values of Anabaptist teaching—community, service, and discipleship. The Hesston College experience also came to emphasize learning the practical skills of making a meaningful living in order to live a meaningful life in this world. The steady infusion of faculty and students helped to create a culture not found in most other small towns. Faculty and students engaged one another and the entire community in the ongoing process of education.
Following the founding of Hesston College, the town of Hesston would never be the same. Hesston College in our midst has contributed to a heady mix of people, ideas, and ideals in this town. The city of Hesston is clearly the better for it.