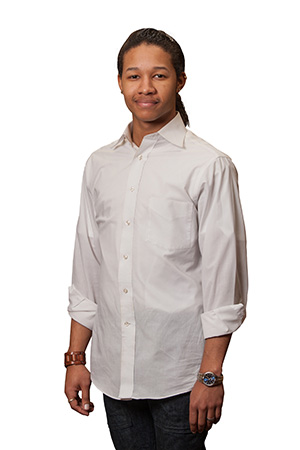 PARENT: Jean Matts
MAJOR: Bible and Ministry
Isaiah's story
I was raised mainly by my mom and grandmother. At a very early age I began to feel a call on my life to do something meaningful, something that could help people and possibly change the world. However, I wasn't quite sure what that meant or even how I could do it because I had quite a few things that I needed to overcome first. From overcoming severe anxiety issues, financial struggles at home, family issues and even physical abuse, there have been a lot of spiritual obstacles set in my way, but through the strength of God I have always been able to endure.
Equips the called
God has shown me His power through giving me a passion to preach. I first began talking to my pastor about how I felt God calling me to the Gospel ministry. We continued to discuss it and from then on I studied with him and went to normal Bible studies that he led. Then came a point when we both still felt confident in the call so I pronounced it to the congregation one Sunday and they approved it, so I began to preach and received my license after my first sermon.
People who care
Hesston College has blessed my life in many ways. It has provided me with the chance to experience all sorts of different opportunities, people, ideals and cultures. It has opened me up to perspectives of peace, community and love. I have never been in a culture or community that lives out that peace and love like the community of Hesston does. Before, yeah, I was passionate about love and community, but experiencing it here has changed me because it's different when you see people who are willing to live it out completely.
For example, when I came back from first responding to the Excel shooting, my friends Micah and Hayden were waiting at my door ready to give me a hug. Kyndell sat up all night long with me to talk about it and Jonathan took me out to Wal-Mart to clear my mind. Why? Because they cared. They saw that I had just experienced something life changing and they wanted me to know that they were there for me. Coming to Hesston has connected me with those kinds of friends, the type of people who embody what a true friend can be, that's what has stuck with me. The people here show true love.
Serious about love
I wish people understood how serious I am about the depth of love and authenticity. They are principles that I try to share and show. The world that we live in has the definition of love so backwards that we can't even begin to process something as complex as authenticity. You first have to know God and know His love in order to even have something be authentic about. Love is a powerful thing, and it's more than what social media depicts. Love is patient, love is dedication, it's kindness and the sacrifice to obey God even when we don't feel like it.