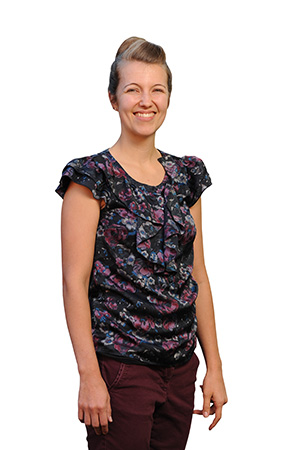 Major: Disaster Management
Career: Volunteer placement coordinator for Mennonite Disaster Service
One of the first
I was part of the first class to graduate from Hesston College's Disaster Management Program (DMP), and I was the first woman to graduate from the program. Before choosing Hesston, I didn't know what I wanted to do after high school. I weighed the idea of taking a year off to do service, but I knew that I wanted to get a college degree at some point. DMP rolls a little bit of both things into one—you are taking classes but you are also spending time doing service. That was a huge relief for me and my decision-making. So there I was at Hesston taking classes on construction and hurricanes and mitigation. I'm not sure how all of that happened, but I know God was involved, and I'm thankful it did happen because it's shaped who and where I am.
After graduating from Hesston, I went to Eastern Mennonite University (Harrisonburg, Va.) for two years to complete a bachelor's degree in social work. After that, I worked for three years at Everence Financial as a teller in the credit union and also as a financial advisor. During that time, I was asked to be on the Board of Delegates for Mennonite Disaster Service (MDS), which reconnected me with the agency. In March 2014, I started working at MDS as the volunteer placement coordinator. I work with people who are going out on job sites and getting their hands dirty doing the actual work of helping people after everything has been taken away from them.
Be greater through empathy
Most of the jobs I have worked in the past several years have been very people-focused and through that, I am constantly learning more about what makes people tick. The more we hear one another's stories, the more we can relate to and understand each other. I hope the more I can put context to people's words and actions, the more empathetic and sympathetic I can be in relating to others.
From an MDS side of things, weather patterns and how we respond to disasters in the U.S. and Canada are constantly changing. MDS has responded to many more disasters in recent years, which means that we are always looking for people who can help lead the volunteers who come to work on the projects. DMP gives students an incredible background in responding to so many types of natural disasters and they also spend several weeks working on MDS projects, which sets them up to be amazing leaders at these projects! We need young adults to bring new energy and new ideas to our projects and Hesston DMP students are a great source for that.