Music Performance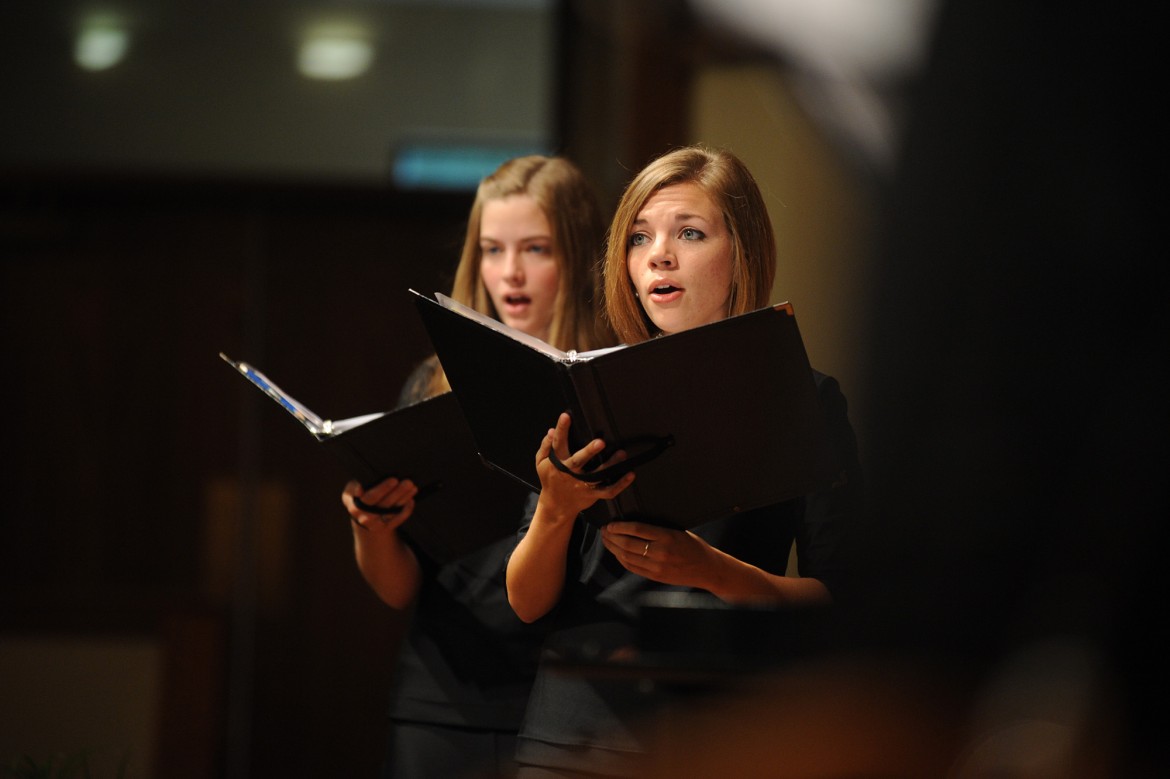 Drawing on a century of rich tradition, the Hesston College Music Department nurtures musical growth, encourages creativity, and provides a solid musical foundation for students pursuing a passion for music. The department provides many opportunities for performance, musical growth, and leadership.
Choirs
Hesston College is home to two performing choirs, the Chorale, and Bel Canto Singers. Each performs in churches throughout the country, offering students an opportunity to share their faith through music. The Chorale performs sacred music from a variety of time periods and styles and takes an extensive tour each spring. Bel Canto Singers is made up of approximately 20 persons chosen by competitive audition. The group performs sacred and secular music at campus events, in the community and on extended weekend tours throughout the U.S. Every other summer, Bel Canto takes an extended, two-week tour.
Auditions for Hesston College choirs are held throughout the year. Students interested specifically in Bel Canto may audition between October 1 and April 15 for the following academic year. This audition may be scheduled in combination with a scholarship audition but requires a separate appointment. Chorale auditions are also held during the opening week of school in August.
The European Chorale is organized every other year for a four-week summer tour of Europe. Besides performing in historic cathedrals, churches, and castles, singers stay in local homes, tour sites related to Anabaptist church history, and spend time sightseeing.
Instrumental Music
Concert Band is an auditioned group of woodwind, brass and percussion players. The ensemble performs contemporary and traditional literature for the wind band as well as sacred works. Members of the Wind Ensemble also make up the "Screaming Larks" pep band, which performs during the Hesston College basketball season. Participation in the pep band is encouraged but not required for Wind Ensemble members.
Private Instruction
At Hesston you can benefit from private instruction in piano, organ, guitar, voice, and woodwind, brass, and percussion instruments. You will receive personalized instruction in small classes, perform solos, take part in recitals, and have the opportunity to conduct our performance groups as first and second-year students. Private voice students are also encouraged to participate in the National Association of Teachers of Singing (NATS) convention, a regional competition that is held annually.
Musical Theater
Opportunities are available for participation in musical theater. Recent productions include Brigadoon, A Grand Night for Singing, Children of Eden, and Into the Woods.
Facilities
The music building at Hesston College has spacious instrumental and choral rehearsal rooms, classrooms, teaching studios, and a piano lab. In the spring of 2007, a 650-seat auditorium was completed, providing a new venue for music concerts and recitals. An Andover tracker pipe organ has been installed and was dedicated early in 2008.
Affiliated Departments
Meet the Faculty