A core strength in the Hesston College Music Department is our focus on keyboard studies. Dr. Mei Li, D.M.A., teaches piano to students from beginning through advanced levels. Students study privately and receive strong, well-rounded instruction from an energetic and caring teacher. A dynamic performer, Dr. Li has won awards at several international piano competitions and has performed as a soloist at the Chicago Cultural Center and in Carnegie Hall. In addition, Dr. Li has done extensive study in piano pedagogy and is currently President of the American Liszt Society Kansas Chapter.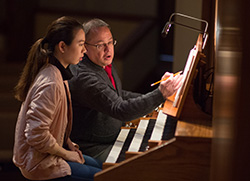 Students who have attained proficiency in piano are encouraged to study organ. Ken Rodgers, M.A., teaches private organ lessons on the Andover pipe organ at Hesston Mennonite Church. Ken is active as a church organist and collaborative pianist. Students who study organ discover the mechanics of the pipe organ and learn the technique involved in becoming a successful organist. As students' skills develop, they are frequently provided opportunities to serve as organists in local churches.
Hesston College has invested in high quality practice and performance instruments that are tuned and serviced regularly by certified technicians. Our practice rooms, located in Keim Center, are sound insulated and temperature-regulated. Piano lessons take place in a teaching studio in Keim Center, while performances are on the Steinway 9-foot concert grand piano on the stage of Hesston Mennonite Church. Organ students enjoy practicing, lessons and performances on the beautiful Andover Organ Opus 116 in the sanctuary of Hesston Mennonite Church.
Become a Lahla Selzer Keyboard Scholar
A keyboard endowment provides generous scholarships that can be received by completing a Performing Arts Scholarship Audition.