The natural sciences have been viewed as an essential part of a liberal arts curriculum since the time of the Greeks, predating the birth of Christ. While the specific content has changed over time, including assumptions about the earth and its place in the universe, several components of the discipline remain. It is in the natural sciences, perhaps more than in other parts of the curriculum, that students learn both inductive and deductive reasoning and how to think in rational, logical terms. The disciplines of observation and drawing conclusions based upon evidence are practiced every day in the classroom and laboratory.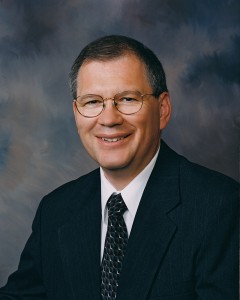 Hesston College students are learning to collaborate in the laboratory. The chemistry lab is designed specifically to encourage teamwork rather than perpetuate the idea of the scientist working alone. Jim Yoder has brought the perspective of research at Wichita State University and his experience as a Fulbright Scholar in Swaziland to the classroom and laboratory. Nelson Kilmer has led his physics classes in working on energy related projects with solar power for vehicles, lighting and residential power.
There is an increasing body of evidence to support our claim that natural science students learn best in a small college, where they have daily contact with their major professors in the labs and work on projects that would not be possible in larger settings. Loren Pope, in his book Looking Beyond the Ivy League (1995), makes a case for the small private college.
There is no magic curriculum, program, or method, for the good small colleges do many different things. The magic lies in how they do it. Students and professors collaborate rather than compete. Discussion of values is emphasized. Students are heavily involved in their own education; they work with each other and with their teachers…. They are hiking or dinner companions or intramural teammates, and in these relaxed occasions get insights from bright minds across the spectrum of scholarship. This is cross-fertilization and making connections. It is part of the students' search to find themselves, and may be as or more important than what happens in the classroom. (p. 41)
In a plenary session at the 2010 Council of Independent Colleges Presidents Institute, Dr. Sylvia Manning, CEO of the Higher Learning Commission, stated that small independent colleges have produced far more world-class scientists than their resources or numbers would warrant. She said that part of the genius of the independent college is its mission to serve students, rather than being driven by grant dollars or advanced research agendas.
At Hesston College, we are justifiably proud of the alumni featured in these pages as well as the many more making a difference in the world. We are also blessed to have dedicated, creative, long-term faculty.
Homecoming marked the beginning of a Math-Science Scholarship Endowment Fund specifically for natural science students. Thank you to all who will support this and to all who support the work of Hesston College.