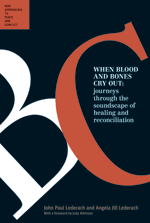 International peacebuilder John Paul Lederach '75 and his daughter Angie Lederach '04 collaborated to write a book on social healing and reconciliation, When Blood and Bones Cry Out: Journeys Through the Soundscape of Healing and Reconciliation, released March 2010.
The Lederachs explore healing as ongoing in the midst of continuing violence in communities. They present stories from centers of violence around the world and illustrate how sound, including vibration and lyrics, acts as a healing agent.
John Paul is professor of international peacebuilding at Notre Dame's Kroc Institute for International Peace Studies in Notre Dame, Ind., and has been involved as a mediator for conflicts in many locations including Northern Ireland, Somalia, Nicaragua, Colombia and Nepal. He is also the founder of Eastern Mennonite University's (Harrisonburg, Va.) Conflict Transformation Program and its associated Center for Justice and Peacebuilding.
Angie is a Notre Dame peace studies graduate. She works with immigration policy at the Center for Public Policy Studies in Boulder, Colo.