As Kenny Graber's size 11½ New Balances sped across the Baldwin City (Kan.) Golf Course on Saturday, Sept. 4, a well-trained ear could have picked up the sound of applause ascending from Hesston College constituents coast to coast.
Graber was one of 12 student athletes running that morning, officially marking Hesston College's reintroduction of cross country. It was the late 1970s the last time runners laced up their shoes for the Larks.
Vice President of Student Life Lamar Roth indicated several factors that made the timing seem right to resurrect the program, including the fact that running clubs have existed off and on over the years.
"Cross country seems to be a good fit within the culture of Hesston College," Roth said. "We have a good history of cross country here, and with Gerry Sieber returning to coach the group, we expect the transition to be a smooth one."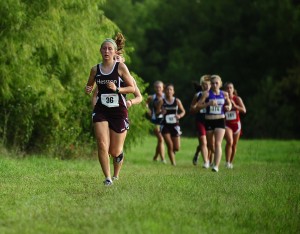 More than 30 years have passed since Sieber and two of his runners boarded a Hesston College plane en route to Champaign, Ill., to compete in the NJCAA national meet. Loretta (Stauffer) '80 Esh, a nursing alumna, was on that plane and remembers her Hesston days fondly.
"Thinking back to competing at Hesston brings back good memories of my college experience," Esh said. "A great friendship was built with Joyce (Brubaker) '79 Herr, my running partner. We spent many enjoyable and, at times, exhausting hours running the flat, graveled roads on the outskirts of Hesston."
Esh, who now works as a nurse in Lancaster County, Pa., experienced a balance between relationships, academics and athletics that became an intricate part of her time at Hesston. Like many other student athletes, these areas seemed to intertwine, forming a nurturing and well-rounded period in her life.
"Preparing for competition took discipline, energy and time, much the same as preparing for tests and completing requirements toward a career did," Esh continued. "I would highly recommend running at Hesston College to anyone."
Examining their experience on campus and with athletics, both Esh and Graber find common themes.
"One similarity between academics and cross country is that the results you see are tied to the effort and preparation you put forth," Graber said. "The season is off to a good start, and our team has a lot of potential. My teammates are great, and that makes the experience enjoyable."
Sieber has relished rediscovering his role as a mentor and motivator.
"It's hard to believe we've only been together a short while," Sieber said. "Our kids enjoy each other's company, and our team chemistry has been tremendous. The camaraderie and work ethic that has developed has been fun to watch."