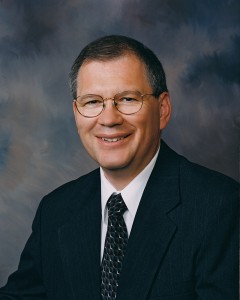 Today, we stand on the shoulders of those who have gone before us. We have inherited an institution with close ties to the Mennonite Church, with attractive, clean facilities, with a dedicated faculty and staff, with a fine academic and student life program, with stable enrollment, with a student population coming from more than 25 states and 12 countries, and alumni with a legacy of service around the world. The week before the Centennial Homecoming celebration began, I had contact with alumni from Ghana, Japan, Laos, Indiana, North Carolina, Texas, Colorado, Michigan, and of course, Kansas. I had correspondence with a church planter, a pilot, a marketing professional, a nurse, a teacher, a pastor, a research scientist, and a carpenter. We are making a difference in the world. People do start here and go everywhere.
But the ground is shifting beneath our feet. We serve a more diverse group of students than ever before. Mennonite Church USA is changing, with less loyalty to church structures. The nature of higher education is changing, with mobility of careers and technology that allows on demand delivery of content.
And much of this is good. We are being called on to gain efficiencies, to be more accountable, and to track our results. The strength of our community is no longer a function of bloodlines and geography, but of ideals and commitments. Our future will depend on our imagination and on our determination to continue to serve the church and the world.
I am drawn to Psalm 90:
Lord, you have been our dwelling place in all generations.
Before the mountains were brought forth,
Or ever you had formed the earth and the world,
From everlasting to everlasting you are God.
You turn us back to dust, and say, "Turn back, you mortals."
For a thousand years in your sight are like yesterday when it is past, or like a watch in the night.
We are on earth, and part of human institutions for a short span of time. We cannot pretend to understand the present without being grounded in the past. We inherit what has gone before, and we leave our own legacy for those who follow. We live in the in between. We cannot change what has gone before, and those who come after will make their own choices. But we do have now. We have a sacred trust to be good stewards of the time that we have. When one considers the effect that even one life that we touch in this institution can have, we have a wonderful opportunity and responsibility.
I close with the end of Psalm 90:
Let your work be manifest to your servants,
And your glorious power to their children.
Let the favor of the Lord our God be upon us,
And prosper for us the work of our hands –
O prosper the work of our hands.