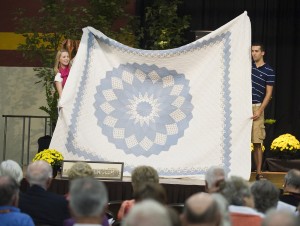 What happens in a heritage auction?
Donors give, buyers pay premium prices, and Hesston College benefits.
President Howard Keim prays, "Give us generous hearts" and auctioneers Jim Brenneman, of Denver, Colorado, and Larry Martin Ac56, and Clark Roth '82, of Hesston, remind people that this is not the time to find bargains.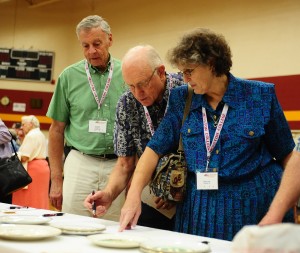 "It's a tangible way to move into the next century," Brenneman said.
The auction began with the sale—and resale—of a couple pans of cinnamon rolls made by former Food Service directors, Emil Yoder and Bob Nunemacher. Yoder confessed that he didn't bake rolls during his time as Hesston College cook; Martha Wenger did.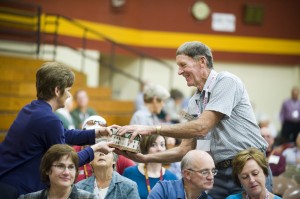 Donated items spanning the last century changed hands during the Saturday afternoon, Sept. 26, live auction and silent auction. They included Green Gables memorabilia; 50th and 75th anniversary items; works of art, quilts, vacation packages, books, chapel pews, and college mementos from current and former presidents, faculty, staff, alumni, and friends.
More than 500 bidders competed for the one-of-a-kind sale items.
Even as the Yost Center crowd dwindled at the end of the second hour of the auction, a baseball signed by the 1964 championship team brought $800 and a pair of "famous sky blue twill culottes…worn by women basketball players in the 1950s and 60s" sold for $100.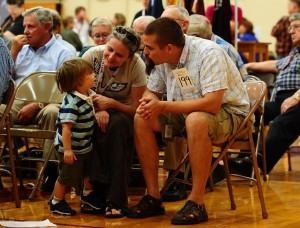 Hesston College Development Officer Phyllis Weaver wrote the descriptions for the 130 sale items, tracing many of their origins and introducing the artists among the faculty and alumni who gave their stoneware, quilts, and paintings.
An Italian dinner for 10 at the home of John and Chris Hershberger sold for $1,050. A framed art piece of the college fountain, made and donated by Phil Hershberger brought a top bid of $1,700.
The money raised—around $23,000—will go toward renovation of the plumbing, heating, and cooling systems in Erb Hall's central and west wings.