At the dedication of the Freedley Schrock Memorial on Saturday, Sept. 26, family, friends, and former students remembered a Hesston College teacher whose mentoring profoundly affected their lives.
A sun-splashed afternoon permitted guests to gather around the memorial, which is located in a shaded area north of Alliman Administration Center, near the former location of the industrial arts building where Schrock taught for 23 years.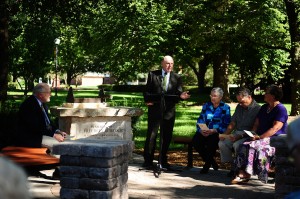 The memorial features a bronze toolbox that is a replica of the one Schrock's grandson, sculptor Tony Hochstetler, Ft. Collins, Colo., inherited from his grandfather. Hochstetler used his own hand as a model for the bronze hand reaching into the toolbox. The toolbox is set on a limestone base. Two tiger wood rounded benches made by Gene Swartzendruber Ac50 provide seating on either side of the memorial.
Landscape artist Pam Gerber, of Harper, Kan., worked with representatives of the Academy class of 1952, and with college and Stone Creek Nursery staff to create the memorial setting.
Freedley Schrock's oldest son, Marvin, a member of the Academy class of 1952, provided the incentive for this memorial. Before Marvin died in June 2007, he offered a challenge gift to be matched by Hesston alumni for the memorial. Members of Marvin's class who met for their 55th reunion in September 2007 decided to act on Marvin's challenge. Merrill Raber Ac52, Belle (Stoltzfus) Ac52 Boyts and Jim Boyts Ac51 coordinated the project which included fundraising and collecting items for a scrapbook. Alumni sent in photos of projects they made—and in many cases are still using—in Freedley's woodworking and pottery classes and wrote notes expressing their appreciation for the teacher who taught them woodworking skills and so much more.
Michele Miller '74 Sharp assembled the photos and class members' notes into a scrapbook that elicited more sharing of memories at the dedication service and the reception that followed it.
Edwin Schrock Ac56, '58, Colorado Springs, spoke for his siblings, Dorothy Kratz Ac48, '50, Elkhart, Ind., and Eunice Munn Ac60, '62, North Webster, Ind., saying he remembers his dad "as a warm and unique person."
Melvin Schmidt Ac55, '57, Hyattsville, Md., spoke of the "profound influence" Schrock made on his students with his gentle mentoring and simple prayers before each class. "Freedley knew his real work wasn't to teach us how to make birdhouses."
In his dedicatory remarks, President Howard Keim spoke of Schrock's reputation as a quiet, thorough, patient craftsman and teacher who cared deeply about students. He described the memorial as "a place to stop, rest, reflect, and remember a great man."