The fulfillment of the Hesston College mission and vision statements – to serve others in the church and the world – looks different for each graduate as they live into the calling on their life.
For Scott Swartzentruber '91, the vision that "Hesston College graduates change the world as they serve through their vocations, churches, families and individual communities to follow Christ," has taken him to the to the kind of literal service where hope replaces despair, the poor are clothed and fed, justice replaces oppression, creation is renewed and the gospel is proclaimed.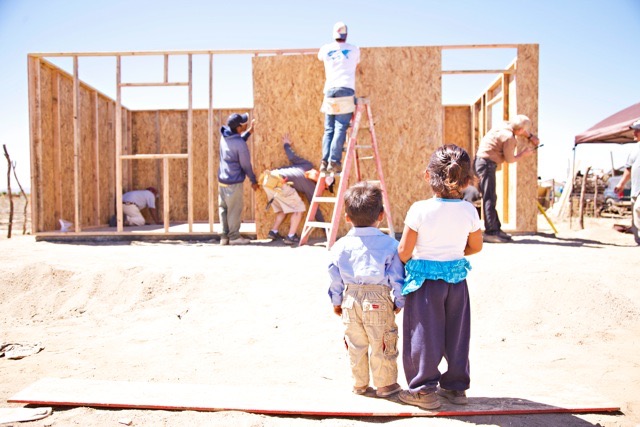 Swartzentruber is co-founder of i6eight, a ministry that addresses physical, educational, spiritual, economic, social and emotional needs in Puerto Penasco, Mexico.
"The heartbeat of i6eight is that God has a message for his people," said Swartzentruber. "We work to meet physical needs, but our real desire is to meet emotional needs – to build relationships and see people become reconciled with God."
The seed for i6eight was planted in 2009. Swartzentruber was serving with the youth at his church in Phoenix, Ariz., but he felt a call to full-time ministry inspired by Isaiah 6:8, of which i6eight gets its name – "And I heard the voice of the Lord saying, 'Whom shall I send, and who will go for us?' Then I said, 'Here I am! Send me.'" Swartzentruber recognized that his call was not to remain comfortably at his Phoenix home and church, but to serve the poor and marginal.
"I have always had a heart for ministry, but I never really saw myself in it," said Swartzentruber. "One of our high school youth in Phoenix challenged my wife to read the Bible with me every day, and that reading transformed us. The Bible is not about me; it's about God's heart to reach the lost. God was leading us to go do something."
Swartzentruber and his wife, Shannon, moved their family four hours south – just about an hour over the Mexico border – to an economically poor area, where they started the i6eight ministry with a local family.
The organization started by building houses for families. In providing a significant need in a very tangible way, the ministry of i6eight was able to demonstrate God's love by serving together and build the relationships that were at the heart of the ministry.
As i6eight has continued to grow roots in the community, it has expanded its reach and impact. Today, in addition to building homes, i6eight provides other physical needs, including a meal program and a clothing donation and distribution center. On the education front, it sponsors youth to attend high school as Mexico does not have free education, and operates a tutoring and mentoring center. It provides employment opportunities in operating a coffee shop that employs neighborhood high school-age youth who are working to enroll in school, and the organization is working to launch the same model with a bakery, t-shirt printing company and mechanic shop.
Besides being a resource for some employment and physical needs, the organization's outreach programs, like the coffee shop, have also become a safe after-school hangout for kids and the wider community.
"We started with two families, and now we've grown to 40 people who do this full-time every day," said Swartzentruber. "More importantly, the at-risk youth that we served are now giving back and serving other at-risk youth. It's not our ambition to just help the poor. We want to see lives transformed. When needs are met and dignity is restored, people step up. You can see it in the way the present themselves and carry themselves that they have pride and dignity."
The organization's ministry also reaches beyond the immediate community. Service options are available that include short-term mission trips to help with house construction, year-long internships for college students, and opportunities for anyone anywhere to offer financial support in sending students to school.
Back in Phoenix, a board of elders provide support for those on the ground in Mexico while also making occasional trips to Puerto Penasco to help with projects and other needs.
The i6eight board gave Swartzentruber a chance to bring more Hesston College contacts into the organization when he asked Mark Yoder '80, '13, his former Lark basketball coach, to give leadership through a board role.
"The thing that really caught my interest about i6eight was the leadership's desire to not only build houses and make life better for those suffering in poverty, but to also share Christ and meet their spiritual needs," said Yoder. "Anyone can meet the physical needs of others, but Christ calls us to share the gospel with the world, and lives are being changed because of the gospel in Puerto Penasco."