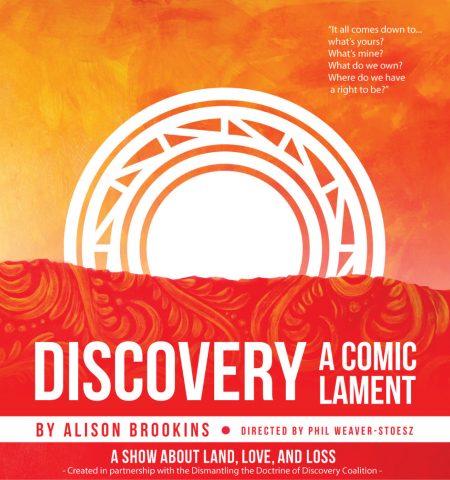 Finding unexpected humor at the crossroads of justice and land use, Ted Swartz and partner Michelle Milne of Ted & Company TheaterWorks (Harrisonburg, Va.) will present "Discovery: A Comic Lament" at 7 p.m., Saturday, Feb. 24, at Hesston Mennonite Church on the Hesston College campus.
The performance is part of the college's weekend Anabaptist Vision and Discipleship Series (AVDS) conference with the theme "Before the Unthinkable Happens: Confronting our role in injustice." Admission to the show is $12 for general public adults and senior citizens and free for conference registrants and students. Tickets can be purchased in advance by calling the Hesston College Bookstore at 620-327-8105 or at the door.
Created in partnership with the Dismantling the Doctrine of Discovery Coalition, "Discovery: A Comic Lament," offers both comic and challenging glimpses into the absurdity of white settler oppression of Indigenous Peoples and the land we live on. The Doctrine of Discovery is the legal framework that justifies the theft of land and oppression of Indigenous Peoples.
The show provides laughter, serious consideration, lament and difficult conversations.
Ted Swartz is a writer, actor and owner and artistic director of the professional touring company Ted & Company TheaterWorks. As a seminary graduate, actor and comedian, Swartz melds crucial issues of the church and society with humor. He is the creator or co-creator of more than a dozen plays.
Michelle Milne has spent the past three years traveling around the United States as part of her ongoing writing project, Traveling Home. Milne has taught theatre and movement classes at Columbia College Chicago and Goshen (Ind.) College, and teaches creative/performing arts classes in prisons and jails. Milne has worked as a director, performer, writer and educator all across the United States.
"Discovery: A Comic Lament," is written by Alison Brookins and directed by Phil Weaver-Stoesz.
The 2018 AVDS conference focuses on hands-on response where issues of oppression are addressed and beginning to be dismantled. Specific leadership strategies will be applied to race relations, gender inequity and economic injustice.
A full AVDS weekend schedule and registration can be found online or call the Hesston College Alumni and Church Relations Office at 620-327-8147.