A new institutional scholarship has been added to Hesston College's more than 100 available endowed scholarships, and honors the legacy of Russ Neufeld, an alumnus and the former Director of Information Technology, who passed away from a rare form of Non-Hodgkins Lymphoma in January 2017 after about a year and a half of battling the disease.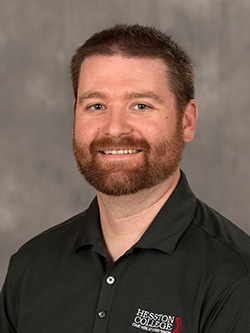 The Russ Neufeld Memorial Scholarship was created to honor Neufeld, a 1997 Hesston graduate who had worked in the college's Information Technology department since 2010 and as the director since 2014.
Both Neufeld and his younger sister, Rachel Neufeld, attended and graduated from Hesston College, but may not have had the opportunity to come from their Canadian hometown to the plains of south central Kansas without the assistance of institutional scholarships. For this reason, recipients of the scholarship will be those with high financial need who might not attend Hesston College without the assistance it provides.
Neufeld had a keen interest in community and his own community of relationships was vast. Just a couple of weeks prior to his death he shared his parting wish with his Facebook community, a belief in spreading goodness, which is a reflection of the way the scholarship will be dispersed.
Neufeld wrote: "So thanks very much for your support in the myriad ways you've shown it. For my birthday, I'd like to steal an idea from a friend and ask you to take all this love you have and share it. It only multiplies and there are so many who could use it. Whether it's just a random act of kindness, or helping at your local homeless kitchen/shelter, or repairing broken relationships, just spread the love folks – it's the only thing in this world that endures. We've received more than we could have imagined – let's continue to spread that a little wider."
Gifts to the fund have been made through memorials following Neufeld's death, as well as a 9K and two-mile run – The Neuf – that was organized by Neufeld's friends. More than 220 participants registered for the January 2018 inaugural race of what is intended to become an annual event.
Anyone interested in giving to The Russ Neufeld Memorial Scholarship in honor of Neufeld, can contribute online and note the gift's intention in the memo field.