Hesston College announced the names of full-time students whose fall 2017 semester grades earned them a place on the Dean's List (3.90 to 4.00) and Honor Roll (3.50 to 3.89).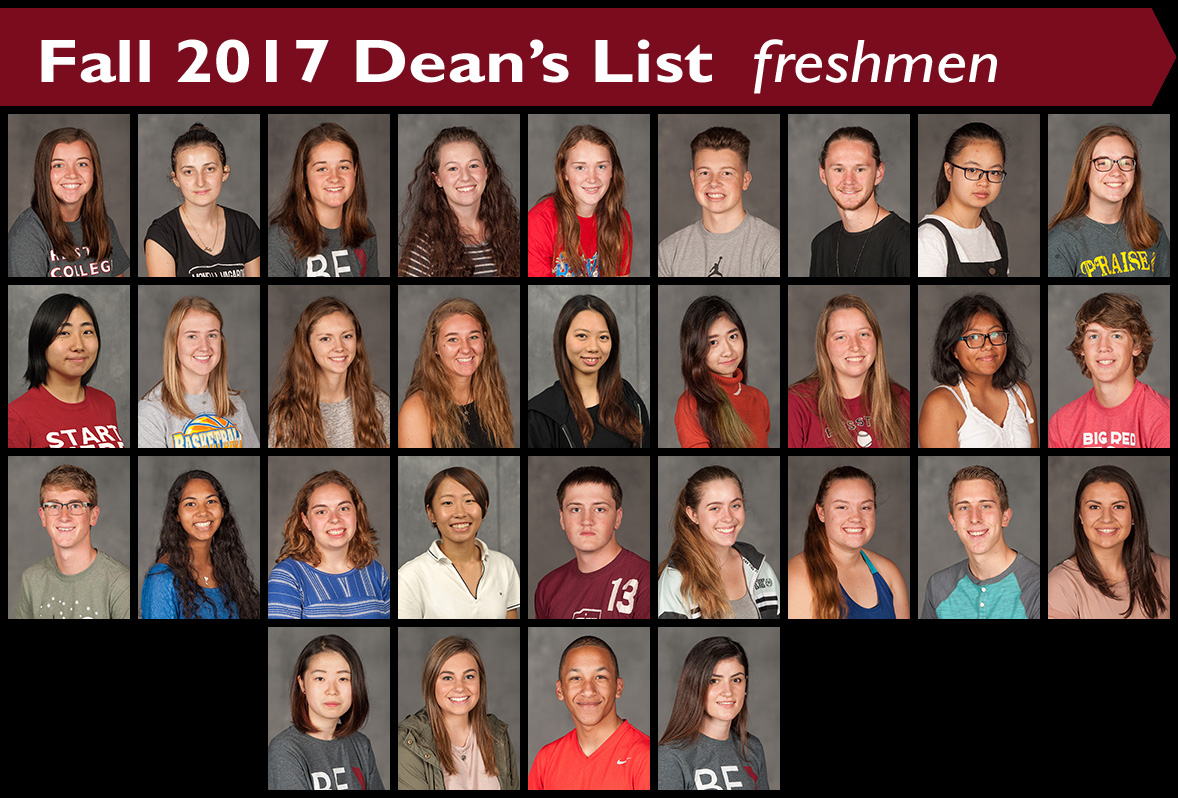 Dean's List – Freshmen
Samantha Amarante, Lodi, Calif.
Jola Ceca, Lac, Albania
Jenna Denlinger, Lancaster, Pa.
Jade Gleason, Brush, Colo.
Faith Hallmark, El Dorado, Kan.
Cal Hartley, Benton, Kan.
Jaden Hostetter, Harrisonburg, Va.
Laura Huang, SanMing, China
Leah Huyard, Staunton, Va.
Aya Iseki, Taito, Japan
Kylee Kasselman, Claflin, Kan.
Rebecca Kaufman, Hillsboro, Kan.
Cassidy King, Cochranville, Pa.
Yuka Kobayashi, Tokyo, Japan
Maria Kwee, Central Java, Indonesia
Kaylen Lassley, Salina, Kan.
Ivonne Ledesma, Wichita, Kan.
Chris Lichti, Shickley, Neb.
Taylor Longenecker, Rockingham, Va.
Faith Manickam, Hesston, Kan.
Sophie Miller, Goshen, Ind.
Rio Mori, Osaka, Japan
Joel Plank, Syracuse, Ind.
Hannah Rosenbaum, Richmond, Texas
Jenna Schneider, Lodi, Calif.
Zachary Smisor, Valley Center, Kan.
Morgan Sterner, Lehi, Utah
Harune Suzuki, Osaka, Japan
Addie Swartzendruber, Henderson, Neb.
Bryson White, Fort Worth, Texas
Armelda Xhari, Lezhe, Albania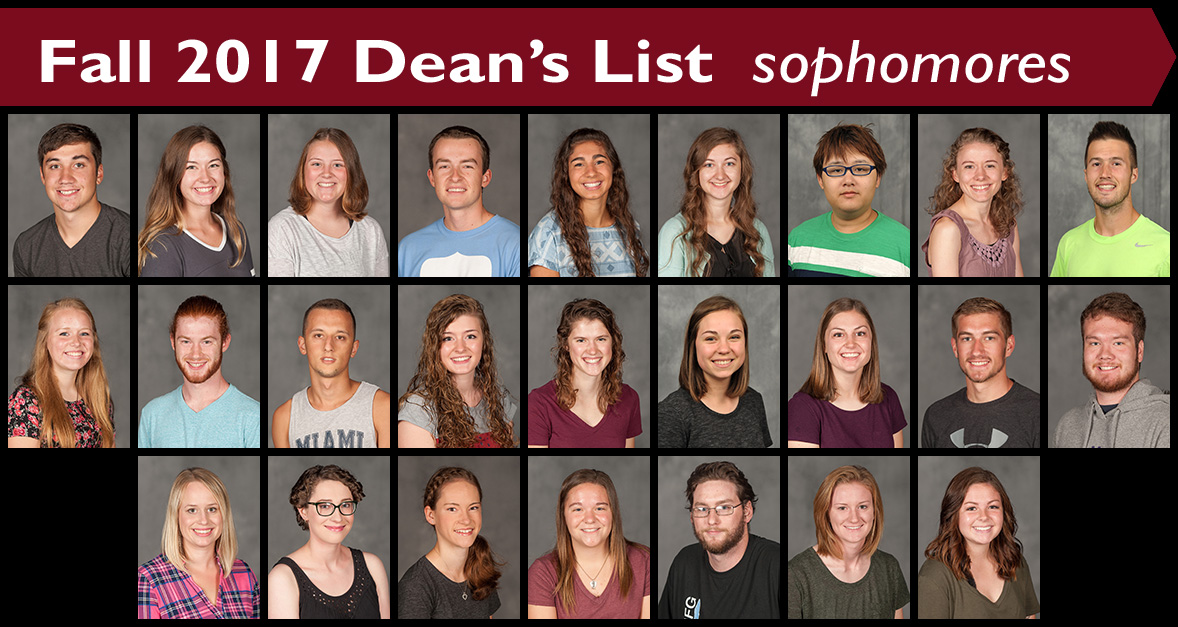 Dean's List – Sophomores
Landon Baer, North Lima, Ohio
Lacey Biggerstaff, Newton, Kan.
Jenna Boller, Kalona, Iowa
Jeremy Deckinger, Wichita, Kan.
Joy Driver, Rockingham, Va.
Elizabeth Eichelberger, Geneva, Neb.
Shota Funazaki, Chiba, Japan
Autumn Gehman, Adams, Tenn.
Luke Hertzler, Harrisonburg, Va.
Katelyn Kilmer, Goshen, Ind.
Levi Litwiller, Hopedale, Ill.
Gaitan Lleshi, Lezhe, Albania
Nicole Loewen, Hutchinson, Kan.
Elizabeth Miller, Archbold, Ohio
Mackenzie, Miller, Lancaster, Pa.
Sarah Miller, Freeman, S.D.
Curtis Oesch, Caldwell, Idaho
Ryan Oostland, Goshen, Ind.
Alexandra Pelz, Viola, Kan.
Brenna Peters, Hesston, Kan.
Monica Plank, Marion, Kan.
Jaelyn Rufenacht, Pettisville, Ohio
Abraham Vidulich, Wichita, Kan.
Sadie Winter, Newton, Kan.
Payton Yehnert, Parker, Colo.


Dean's List – Juniors
Allison Jantzi, Hesston, Kan.
Sophia Miller, Newton, Kan.
Vanessa Steckly, Milford, Neb.
Lilian Trifena, Tangerang, Indonesia
Dean's List – Seniors
Kaedi Baer, Englewood, Colo.
Crystal Burgess, Los Angeles, Calif.
Meredith Burkhart, Newton, Kan.
Ashley DeTurk, Salina, Kan.
Celine Gregor, Omaha, Neb.
Brooke Hershberger, Goshen, Ind.
Amber Junkins, Wichita, Kan.
Kensi Mader, Wichita, Kan.
Raven Norris, Maize, Kan.
Zahira Shafeeq, McPherson, Kan.
Sarah Whitten, Wichita, Kan.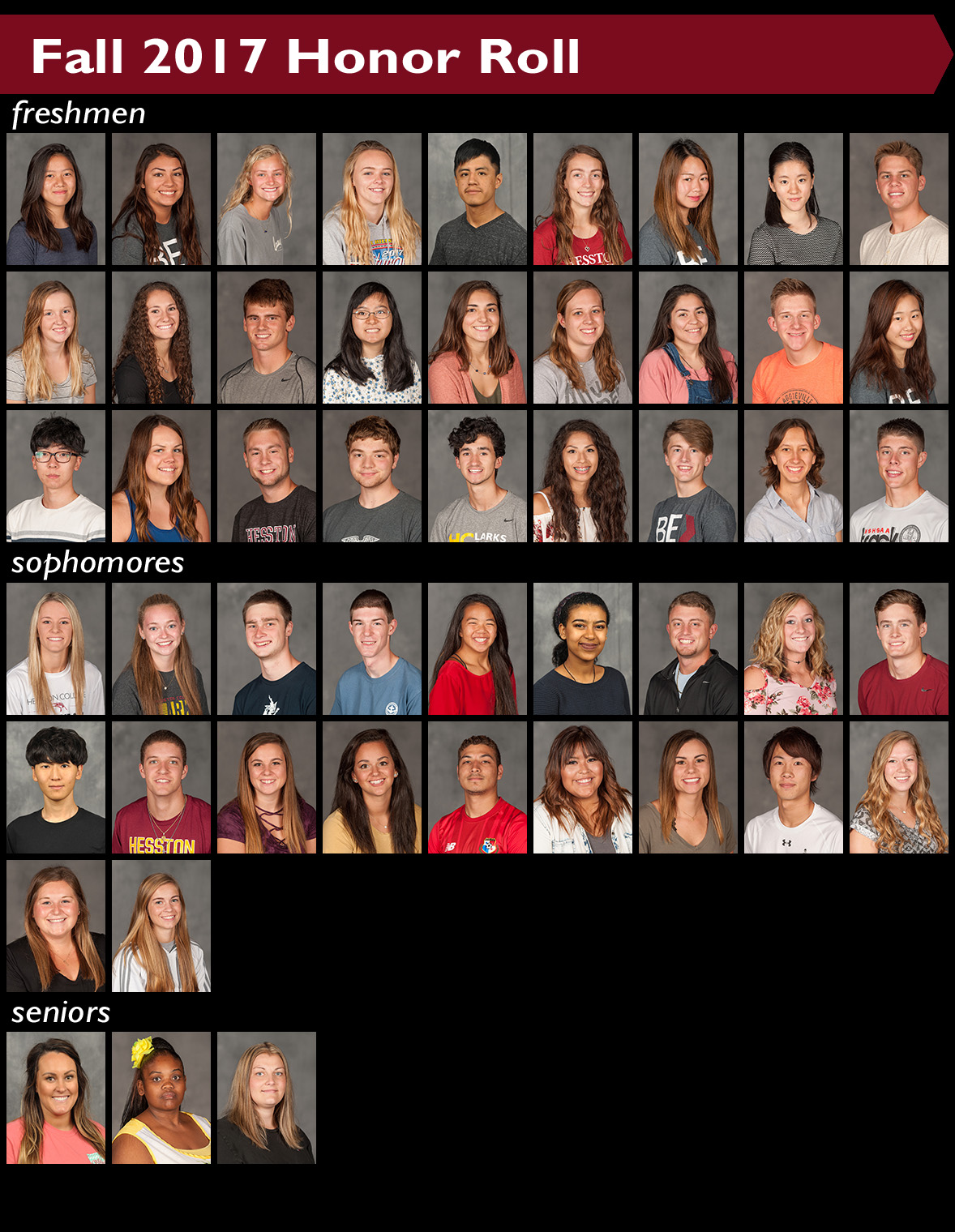 Honor Roll – Freshmen
Louisa Angeline, Semarang, Indonesia
Alexis Avalos, Yucaipa, Calif.
Brielle Baucom, Lee's Summit, Mo.
McKenzie Brown, Estes Park, Colo.
Mairon Chavez Garcia, Tochigi, Japan
Taylar Clark, Port Angeles, Wash.
Rina Fukada, Yokohama, Japan
Risa Fukaya, Kanagawa, Japan
William Gaby, Goshen, Ind.
Emily Hague, Marion, Kan.
Annalys Hanna, Fraser, Colo.
Grant Harding, Louisburg, Kan.
Lily Kauffman, Mountain Lake, Minn.
Jenna Magana-Garcia, Hutchinson, Kan.
Lindsay Manwell, Wichita, Kan.
Mariana Martinez Hernandez, Tegucigalpa, Honduras
Brant McCune-Wall, Manhattan, Kan.
Kaede Nakada, Tokyo, Japan
SungHyoun Nam, Gyounggi-do, South Korea
Caitlyn Nichols, Mesa, Colo.
Camryn Roth, Canby, Ore.
Jared Schlabaugh, Wellman, Iowa
Teo Soler, Orleans, France
Samantha Trejo, Lyons, Kan.
Zachary Yoder, Berea, Ky.
Anna Zehr, Tiskilwa, Ill.
Taitem Zeigler, Natoma, Kan.
Honor Roll – Sophomores
Kylie Brenneman, Hesston, Kan.
Sierra Broce, Goddard, Kan.
Nebiyat Demissie, Addis Ababa, Ethiopia
Andre Eanes, Harrisonburg, Va.
John Ebaugh, Holtwood, Pa.
Emma Eitzen, Lititz, Pa.
Jacob Harris, El Paso, Texas
Shaelyn Headrick, La Junta, Colo.
Preston Judd, Hayden, Ala.
Guhyoun Nam, Gyeonggi-do, South Korea
Zachary Neely, Ada, Okla.
Josie Noll, Atchinson, Kan.
Jasmine Pankratz, Abbyville, Kan.
Ricardo Pineda Moreno, Ancon, Panama
Jenna Ratzlaff, North Newton, Kan.
Kendall Richardson, Lodi, Calif.
Kantaro Sekiya, Tokyo, Japan
Haley Unruh, Wilmore, Kan.
Ashley Yasin, Lake Isabella, Calif.
Lindsey Yoder, Millersburg, Ohio
Honor Roll – Seniors
Taylor Berner, Wichita, Kan.
LaKeisha, Frierson, Wichita, Kan.
Samantha McElroy, Wichita, Kan.