A year ago, Hesston College's Anabaptist Vision and Discipleship Series (AVDS), an annual conference for church and community leaders, took on the daunting task of exploring how communities can effectively and compassionately respond when tragic events happen to them or those around them. As a continuation to that discussion, the 2018 AVDS conference will take those conversations to a preceding step and focus on dismantling the injustices that surround us in an effort to change the situations that cause unavoidable tragedies to happen.
With the theme "Before the Unthinkable Happens: Confronting our role in injustice," the Feb. 23 to 25 conference will draw on the teachings of leadership competencies by the Kansas Leadership Center (Wichita), as well as hear from experts in the field, including professor, author and activist Dr. Drew G.I. Hart, local pastors Kevass Harding (Dell Rose United Methodist Church, Wichita) and Lois Harder (Lorrainne Avenue Mennonite Church, and Hesston Bible professor Michele Hershberger.
The conference is open to and will benefit anyone interested in what they can do to begin to change the injustices around them, including pastors, church and community leaders as well as lay persons.
"How can we help our communities be healthier so that fewer trauma-related incidents happen?" said Kurt Horst, pastor of Whitestone Mennonite Church (Hesston) and a member of the conference planning committee. "This year's AVDS challenges us to change that by looking at ourselves and learning the places where we're blind to the way we contribute to injustices –economic, racial, even gender injustices – and go back home prepared to change ourselves, our churches, our communities and our world."
"I think that a lot of us assume that the situation of injustice is very clearly defined and that it is interpreted or understood the same by everyone," said Carlota Ponds, conference planning committee member and Director of International Student Support at Hesston College. "It's change within yourself first."
Adrion Roberson, a faculty member for the Kansas Leadership Center (KLC), known for its innovative approach to civic engagement, will lead participants through the four KLC leadership competencies, while faith-based speakers will connect the messages back to theology and the teachings of Jesus.
"I look at the attributes of what the KLC competencies bring and I just see Jesus," said Roberson, who is also pastor of Berean Community Church in Kansas City, Kan. "When we look at the competencies of managing self, diagnosing situations, energizing others and then being able to intervene skillfully, the culture has shown us that it can't do that on its own. We can't expect change unless something changes us first."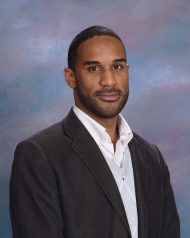 Dr. Hart, an assistant professor in theology at Messiah College (Mechanicsburg, Pa.), will use his experience leading and mentoring black and brown youth as a pastor, working for an inner-city after-school program, and working closely with Philadelphia-based nonprofits to lead the discussions and learnings from a faith-based perspective.
The opening keynote address by Hart and Roberson will be free and open to the public beginning at 7 p.m., Friday, Feb. 23, at Hesston Mennonite Church. A free-will offering will be collected to help cover conference expenses for those attending this session only. Hart will speak on the topic "Stayed on Freedom: A Theology for Confronting Systemic Injustice as Beloved Community." Roberson will share an overview of the four leadership principles from a faith perspective.
Small group discussion times throughout the weekend, or Change Agent groups, will allow participants to engage with one another to develop meaningful responses and strategies for change.
The weekend's theme will also be highlighted through a Ted & Company TheaterWorks show, "Discovery: A Comic Lament," starring veteran actor Ted Swartz and Michelle Milne, about the Doctrine of Discovery, the legal framework that justifies theft of land and oppression of indigenous people. The show will be at 7 p.m., Saturday, Feb. 24 at Hesston Mennonite Church. Conference participants will attend the show through their conference registration. The public is invited to join them at $12 for adults and free for youth of all ages. Tickets are available at the door or in advance from the Hesston College Bookstore in person or by calling 620-327-8105.
Registration for the weekend conference can be found online, along with a full schedule of events and other information. The cost to attend is $100 per person with discounts available for members of sponsoring congregations or two or more participants from the same congregation.
Organizations partnering with Hesston College to sponsor the conference include Whitestone Mennonite Church (Hesston), Hesston Mennonite Church, South Central Mennonite Conference, Western District Mennonite Conference, Everence, Mennonite Central Committee Central States and Mennonite Mission Network.