Hesston College alumna Ashley Sauder Miller shares the joy she finds through her mixed media paintings featured in Hesston College's Regier Friesen Gallery, located in the Friesen Center for Visual Arts, through Dec. 9.
"I draw inspiration from a wide range of sources: my children's mark making and drawings, design, objects and color from significant memories, motherhood and the body," Sauder Miller explains.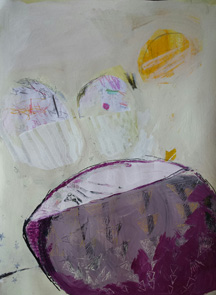 The paintings in her show "The Keeping One" capture two subjects: one series' subject is a chair, either ones she has collected and refinished or ones from significant memories. The other collection centers on imagery of containers such as a pod or bowl.
Sauder Miller graduated from Hesston College in 2001 and received her undergraduate at Eastern Mennonite University (Harrisonburg, Va.). She received a master's of fine arts with an emphasis in drawing and painting from James Madison University (Harrisonburg). She now works from her home studio in Harrisonburg while caring for her four young children.
Sauder Miller's paintings can also be viewed online at www.ashleysaudermiller.com.
The Reiger Friesen Gallery is open from 8 a.m. to 4 p.m. Monday through Friday.