Immediate cheers and applause erupted as Simon Zehr received his Hesston College diploma, and not just because his name was the final one read during the May 11 Commencement ceremony. Zehr's fist pump and beaming smile so familiar to the campus community, revealed his own joy as he walked off the stage with diploma in hand – an accomplishment he wasn't always sure would happen.
In his two years as a Hesston College student, Zehr (Tiskilwa, Ill.) endeared himself to the entire campus community with his unceasing friendliness, positive attitude and genuine, caring personality. His accomplishments and pride in his work spurred celebration from all of his many friends and cheerleaders.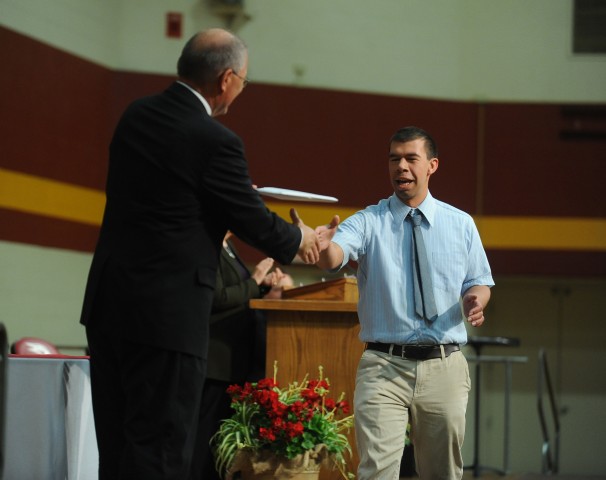 Zehr has Williams syndrome, a genetic condition characterized by medical issues, developmental delays, learning disabilities and a highly social personality. But none of his would-be roadblocks ever got in his way of achieving success at Hesston College.
"There were a lot of times I didn't think I would graduate, but I had the help I needed at Hesston and I just took everything day by day," Zehr said.
"Simon's time at Hesston College has been tremendous," said his father, Dennis Zehr. "The college had the staff, capabilities and willingness to welcome him and work with his particular needs. He worked really hard, but he also had so much help along the way and he knew where to find help when he needed it."
Just like any other student with lower than average high school academics, Zehr entered Hesston College on a contractual agreement thanks to his admissions counselor Jeron Baker who strongly advocated for him to be accepted in spite of his obvious academic challenges. The contractual agreement required that Zehr meet certain academic standards each semester in order to continue his studies. He took the requirements seriously and continuously put in extra effort to meet his goals.
"All of my instructors encouraged me and pushed me to do well," Zehr said. "I pushed myself as well because I was happy to be at Hesston."
Weekly meetings with Deb Roth, director of Student Success, helped him plan and organize his schedule and even plan ahead. Baker, then serving as student life advisor, became another personal support person for Simon, working with him to establish a balance between organized academics and budding friendships.
Knowing Simon enjoyed hands-on work, early in his college career his father encouraged him to  study in the college's Disaster Management Program.
"I felt like Disaster Management would be a good track for Simon because it would allow him to do hands-on work and give him skills he can use in the future," Dennis said.
Simon was among five graduates honored at the program's May 10 recognition celebration. This summer, he and 10 other Disaster Management students will complete an eight-week field experience requirement working with Mennonite Disaster Service in High River, Alberta, Canada.
"I have learned a lot from Simon in the two years of having him in the disaster management program," said program director and Zehr's academic advisor Russ Gaeddert. "He is one of the most honest, transparent, friendly, caring individuals that I have met. He has worked hard to succeed at Hesston College and I am so proud of him for graduating."
Zehr was also one of three students honored at the annual LarkFest Awards May 2, with the Service Leader Award for more than 60 service hours logged during the academic year. In fact, he led all students in service hours with 84 hours logged for the year.
"Disaster Management has been great for me because I learned a lot of new things and had experiences cleaning up and rebuilding, but also because service involves people and stories and those are two things I love," said Zehr.
His love for people may be the most notable thing about Zehr. His outgoing personality, ability to have conversations with others and non-judgmental attitude quickly gained him dozens of friends who are just as loyal to him as he is to them. Zehr leaves Hesston College with his newly minted diploma having influenced an entire campus to take an honest look at their own priorities and attitudes toward life.
"Simon is friendly to everyone regardless of things like race, background, religion or anything else that may be a barrier for other people," said Mitch Stutzman, Zehr's former resident director. "He has the right priorities – faith, people and relationships – and he's not afraid to be vocal about them. He genuinely cares about people and is a constant encouragement to those around him."