Beads of sweat stream down his forehead. He wipes his eyes clean and clenches his hands into sweaty fists. He leans back in the chair as he takes a deep nervous breath. The needle meets pale white skin of his forearm as it penetrates it with dark black ink.
Hesston College class of 2014 graduate Nathanael Ressler recalls this experience of when he got his first and only tattoo: the timeline of the Heilsgeschichte, the chronological story of the people of God studied in the college's Biblical Literature course.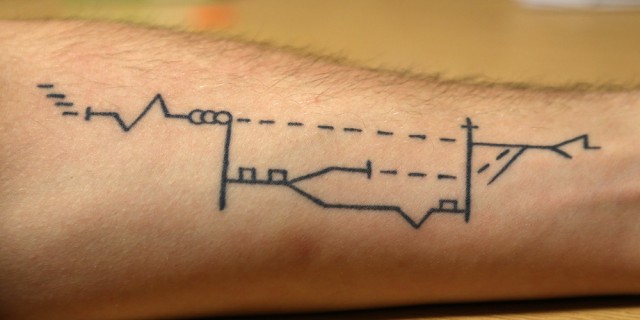 "I got the tattoo because of the idea," Ressler said. "The Heilsgeschichte and this timeline represent a story that we are a part of and for me, when I look at it, I am reminded that this is my story, this is my identity. I am connected to the Bible through it."
Ressler's spiritual journey starts in his hometown of Mount Vernon, Ill. Where he attended East Bend Mennonite Church; Ressler's father, Jeff Ressler, was the pastor of the church.
"Having my father as the pastor of the church made for an interesting life." Ressler said.
On the edge of his senior year, Ressler sought out colleges that fit what he wanted. He visited Eastern Mennonite University (Harrisonburg, Va.) and Goshen (Ind.) College along with others before eventually deciding on Hesston College.
"The other colleges were nice, but Hesston was everything I wanted in a college," Ressler said.
Coming into his freshman year he considered two options for his major: communications and Bible.
"I'm an outgoing person with good writing skills and I love talking to people so that's why I thought I fit into communications," Ressler said. "But I felt being a Bible major was my calling more than anything."
The Bible major route eventually led him into the Biblical Literature course, which he took with Bible and Ministry faculty Marion Bontrager.
"I am the son of a pastor, so I sort of thought I knew more than the average person, and I felt good going into the class," Ressler said. "But the class really taught me more than I ever thought [it would] and it helped me grow and connect with God on a more spiritual level."
After completing the course, Ressler was striving for more spiritual growth. His thirst for growth would be quenched, as he was one of the few people to be selected by campus Pastor Todd Lehman as a Ministry Assistant.
"He [Ressler] has a deep commitment to his faith and another key characteristic that he has is the ability to care for and listen to people," Lehman said.
Ressler's faith commitment ran deep in his veins, so much that he had an idea about furthering his connection with Hesston College, his faith and himself.
The idea was to get a tattoo, yet he struggled about what it should be.
"I strongly believe in getting tattoos that have some type of meaning," Ressler said. "When I was deciding what to get I figured that the Heilsgeschichte was such a big part of my life, that it made sense to have it imbedded onto my skin."
Ressler thought long and hard about whether to get the Heilsgeschichte permanently tattooed on his arm.
"Before I actually got the tattoo I drew it on my arm with permanent marker," Ressler said. "After about three weeks of having it on my arm I came to the conclusion that I loved having it so that's when I started to make plans for the tattoo."
Finally, after extensive talks with his parents and some of his closest friends the date was set for Aug. 13, 2013.
"My parents really didn't want me to get it because it would stay with me forever," Ressler said. "But in the end they told me it was my choice and they respected my decision.
The Heilsgeschichte and Ressler are now one, and he doesn't hesitate when asked about the story of his decision to get a tattoo.
"The tattoo is one of the greatest decisions I've made because it reflects who I am, and it's a new way for me to talk about Jesus and the Bible."