Hesston College announced the names of full-time students whose fall 2013 semester grades earned them a place on the Dean's List (3.90 to 4.00) and Honor Roll (3.50 to 3.89).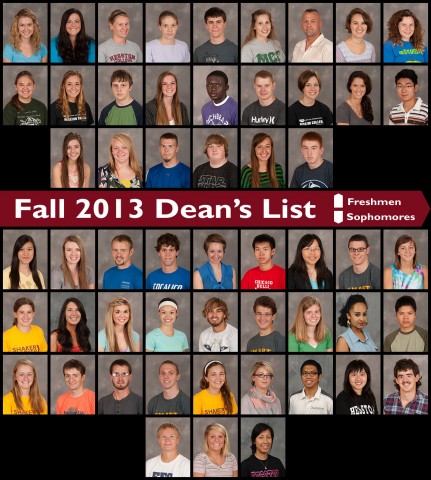 Dean's List
Freshmen
Rachelle Adrian – Mountain Lake, Minn.
Kailey Aiello – Salem, Ore.
Megan Baumgartner – Hesston, Kan.
Victoria Becker – Halstead, Kan.
Oliver Denlinger – Denver, Pa.
Maria Diener – Meridian, Miss.
George Felix – Wichita, Kan.
Christina Hershey – Mechanicsburg, Pa.
Sarah Hostetler – Pleasant Dale, Neb.
Kaylah Kauffman – Hutchinson, Kan.
Allison King – Gordonville, Pa.
Matthew Lind – Harrisonburg, Va.
Karli Mast – Hubbard, Ore.
Alpha Mavungu Kivuvu – Kinshasa, Democratic Republic of Congo
Spencer Miller – Milford, Neb.
Holly Peters – Hesston, Kan.
Laken Richer – New Paris, Ind.
Yuu Sakaguchi – Kanagawa-ken, Japan
Rachel Short-Miller – Bellingham, Wash.
Tessa Sorensen – Millville, Utah
Travis Splechter – Coffeyville, Kan.
Micah Wallace – Newton, Kan.
Courtney Wengerd – Goshen, Ind.
Steven Yoder – McVeytown, Pa.
Dean's List
Sophomores
Nadia Asprilla – Purwodadi, Central Java, Indonesia
Alyssa Becker – North Newton, Kan.
Denver Coblentz – Harville, Ohio
Mitchell Denlinger – Denver, Pa.
Rebecca Eichelberger – Geneva, Neb.
Kelvin Ferbianto – Jakarta Utara, Indonesia
Victoria Gunawan – Semarang, Central Java, Indonesia
JD Hershberger – Hesston, Kan.
Marissa Hochstetler – Strang, Neb.
Savanah Hofstetter – Dalton, Ohio
Taylor Hutchinson – Newton, Kan.
Kaylee Knoll – Douglass, Kan.
Makayla Ladwig – Wichita, Kan.
Mitchell Martin – Milford, Neb.
Kendrik Mast – Harrisonburg, Va.
Elsa Miller – Millersburg, Ohio
Muna Mohammed – Ethiopia
Thang Nguyen – Hanoi, Vietnam
Emma Payne – Pulaski, Iowa
Nathan Peters – North Liberty, Ohio
Jared Regehr – Hesston, Kan.
Eyan Roth – Hesston, Kan.
Amy Seibel – Lawrence, Miss.
Krystle Smith – El Dorado, Kan.
Redfa Titihalawa – Papua, Indonesia
Tien Tran – HoChiMinh City, Vietnam
Wesley Wilder – Hesston, Kan.
William Wyatt – Rose Hill, Kan.
Carley Wyse – Archbold, Ohio
Monica Yosin – Kudus, Central Java, Indonesia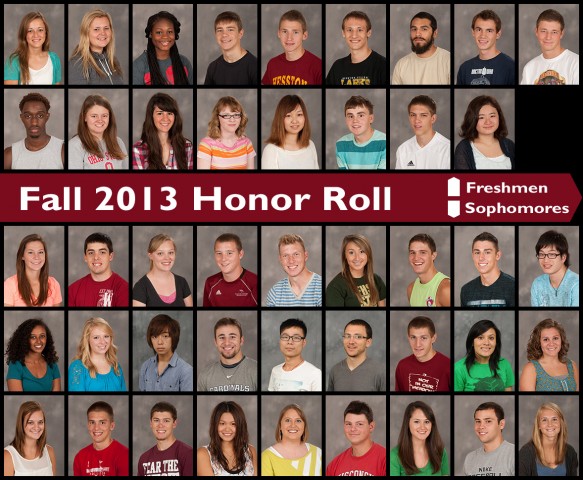 Honor Roll
Freshmen
Mary Bender – Harrisonburg, Va.
Taylor Berkey – Keizer, Ore.
Sydni Carter – Muskogee, Okla.
Eric Cender – Valparaiso, Ind.
Davis Cook – Goessel, Kan.
Ryan Dungan – Kechi, Kan.
Octavio Perez – Lenexa, Kan.
Benjamin Rush – Quakertown, Pa.
Jeshurun Shuman – Middletown, Pa.
Jordan Tanner – Houston, Texas
Jordan Waidelich – Stryker, Ohio
Elisabeth Wilder – Hesston, Kan.
Carissa Worthington – Newton, Kan.
Ayaka Yamazaki – Tokyo, Japan
Nathan Yoder – Stryker, Ohio
Nicholas Yoder – Wellman, Iowa
Minori Yokoki – Tokyo, Japan
Honor Roll
Sophomores
Samanthan Aeschliman – Lindsborg, Kan.
Joshua Booth – Newton, Kan.
Amanda Burton – North Newton, Kan.
Garrett Byler – Belleville, Kan.
Stephen Cabe – Niles, Mich.
Morgan Cockrum – Falcon, Colo.
Scott Cooper – Sand Springs, Okla.
Mason Davis – Mustang, Okla.
Ippei Fujimoto – Miyazaki-ken, Japan
Tsegamihret Gebru – Addis Ababa, Ethiopia
Rachelle Haarer – Goshen, Ind.
Ryota Kanamori – Chiba-ken, Japan
Cory Kerbs – Nevada, Mo.
Weihao Kong – Heifei, ChinaNicholas Ladd – Hesston, Kan.
Joshua Landis – Sterling, Ill.
Maria Lopez Maldonado – Ecuador
Morgan Martin – New Holland, Pa.
Amy Nussbaum – Union, Mich.
Tyler Roth – Canby, Ore.
Kendal Slabach Brubaker – Harrisonburg, Va.
Yoshie Ueno – Tokyo, Japan
Lea Ulrich – Hesston, Kan.
Adam Unruh – Marion, S.D.
Hannah Weaver – Inola, Okla.
Jarret Wolf – Sand Springs, Okla.
Sierra Wyse – Mount Pleasant, Iowa