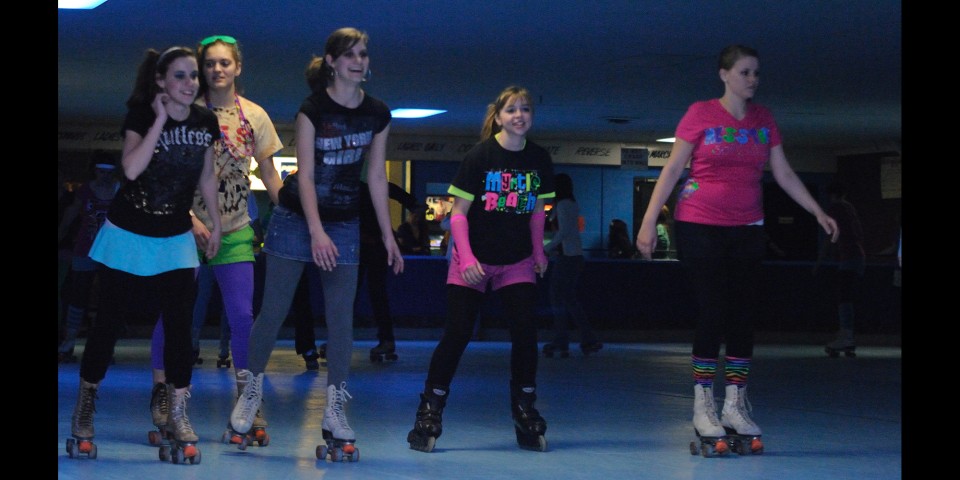 Your Ideas
Send your ideas for a great campus activity to Jessica Alexander and Jasmine Martin, campus activities directors. Submissions can be as simple as, "I'd like to go bowling sometime soon," or with more detail, like, "I think we should commemorate Hesston College's history with a costume party. It could all take place in BSC with prizes for best costume (prize–dinner for two catered by a prof), most historically accurate (leftovers from the dinner for two), and wildest get-up (a pair of flip flops and an HC sweatshirt)."
Clubs
Hesston College offers a variety of clubs for campus community participation:
Baking Club
Baking Club is all about food and fellowship. All cooking abilities and new recipes welcome! And guys – it is not only the women who bake! We meet once a month on a Sunday afternoon in the Hesson Mennonite Church kitchen. Everything we make is divided between students to be taken back to the mods for sharing. Come join the best smelling club on campus! Sponsors – Becky Mason and DaLonna Schroeder.
Grill Club
Lean about grilling different types of food and enjoy fellowship together while sampling the amazing food. The grill club also hosts fund-raisers at soccer and baseball games. Sponsor – Jim Mason.
Hesston College Amateur Radio Club
The Hesston College Amateur Radio Club is established for the purpose of promoting amateur radio activities among Hesston college students, faculty, staff, alumni, former employees, spouses, families and the local community. Sponsor – Bob Harder.
Hesston College Students African Union
Hesston College Students African Union is the official club of Hesston College for those of African or African American descent and also for those who just want to join and learn about the culture. Its mission is to develop a supportive cultural community for Africans and African Americans and share with others, to celebrate and instill pride in African/African-American culture, and to educate one another about our respective cultures. Visit Hesston College Students African Union on Facebook for more information on current activities. Student leaders – Zenawit Nerae and Marcus Barbosa. Sponsors – Tony Brown and Tim Lichti.
International Cooking Group
Sponsors – Lorna Harder and Vickie Andres.
Knitting/Crochet Club
Knitting/Crochet club is for anyone who would like to play with sticks and string. We will teach you how to knit/crochet, or help you advance your skill level if you already know the basics. We'll meet once a week, enjoy some fresh baked goods, socialize and work on our projects. Beginner supplies will be provided. Sponsors – Rita Peters, Lorna Harder.
Peace & Service Club
Our purpose is to promote peace on this campus and to get students involved in doing service work. We will work closely with the Homeless Shelter in Newton, the Mennonite Central Committee center in Newton, Numana and Hesston Mennonite Church. Sponsor – Todd Lehman. Student leaders – Jacob Landis and Asbel Assefa.
Quilting Club
Sponsors – Margaret Wiebe and Tony Brown.
Superhero Club
We will go beyond just watching superhero movies. After watching a movie or TV show we will have serious discussions about what makes a superhero and why the people in the comic books are deemed superheroes rather than villains. We will do everything from making trips to Wichita to buy comic books to creating our own based on a definition of a superhero that we would create. Student Leaders – Rhett Imel, Jonathon Steele, and Taylor Fritz. Sponsor – Mitchell Stutzman
Sustainability Club
This club will plan to sponsor two set events each year–an alternative gift-giving activity around Christmas time and the 10-Day Give at the end of the spring semester–along with perhaps a few films and other activities selected by group members. The group will offer a great deal of freedom for student leaders to plan creative events. Sponsors – Karen Sheriff LeVan and Kendra Burkey.
Ultimate Frisbee Club
Looking for some serious Ultimate Frisbee? This club is looking for people who are dedicated to playing competitive Ultimate Frisbee. This year we are hoping to play against some other colleges, so we are looking for athletes who like to run as well as improve their Ultimate Frisbee skills. We have a group on Facebook called Hesston Ultimate Frisbee 2012-2013 that has the days we play. We will let you know more information as the year goes on. Student Leaders – Marcus Barbosa, Jon Berkholz and Boni Garber. Sponsors – Jill Schlabaugh and Michael Smalley.
Unicycle Club
Unicycle Club's purpose is to give those who are interested in learning how to ride a unicycle the opportunity to learn. Sponsor – Todd Lehman.
Yearbook
Yearbook is looking for students who are interested in photography, design and/or writing to help create the 2012-13 yearbook. All experience levels are welcome! Yearbook members will meet weekly as a team and will also have outside work and deadlines assigned to them. Internship credit is available. Get experience that can be applied to a future career! Leadership opportunities are also available as we will appoint a student editor and possible other roles. Sponsor – Rachel Schlegel.