Rachel Swartzendruber Miller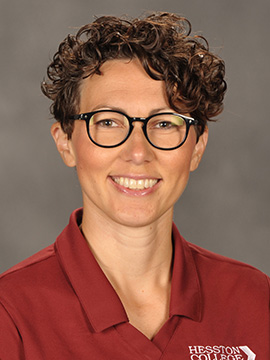 Vice President of Advancement
Email
rachelsm@hesston.edu
Office
Alliman Administration Center
Affiliated Departments or Programs
Education
A.A., Hesston College, 2000
B.A., Goshen College, 2002
M.A., Wichita State University, 2006
Ph.D., Andrews University, 2015
In Addition …
Where did you grow up/what high school did you attend?

I grew up south of Iowa City, Iowa near the small town of Kalona. I attended Iowa Mennonite High School.
Why did you choose Hesston?
I chose Hesston because on a campus visit my admissions counselor asked me if I might be interested in being one of the college's student ambassadors. The idea of having a leadership role during my first year of college really excited me. I was so encouraged that someone saw leadership gifts in me. I was also offered a spot on the Hesston College volleyball team. Hesston was a great place for me to start and get involved right away.The college allowed me to grow spiritually, academically, athletically and socially.
What is your favorite Hesston College memory?
I LOVED weekly chapels because they were the one time when everyone was together on campus. I enjoy and value a close community and at chapel that community feel was extremely evident. I also loved looking into the stands during volleyball games and seeing a packed crowd. The community not only worshiped together, but played and socialized together.
Where did you go after Hesston? what degrees did you earn?
I received my bachelor's degree from Goshen College in Communication with a minor in Psychology. After Goshen I went on to receive my master's degree from Wichita State University in Communication and Rhetorical Criticism. I am working on a Ph.D. in Leadership Theory from Barrian Springs University.
What is the same about Hesston as when you attended?
The relationships, Christ-centered education and the community feel are still at the core of this place like they were when I was a student. At Hesston you get to know friends, faculty, staff, teammates and classmates on a deeper level than at other colleges or universities because our campus values taking the time to build life long bonds. Faculty invest in students, which makes the student learner experience so rich. Students invest in each other, saying that the friendships built here have lasted a lifetime. People invest in people, which is why we call each other by fist name instead of by title. It is not rare to be greeted by name as you walk across campus, or as you sit down for class. You are not a number here....you matter!
What makes Hesston better than when you were a student here?
The many updates to campus and facilities are hard to beat. The campus has always looked nice, but over the past decade it has become beautiful.
START at Hesston College! It may change your life in ways that are beyond your imagination.
Related Links