A select group of about 20 to 30 voices chosen by audition, Bel Canto is Hesston's premier choir. Learn more on the Music Department page.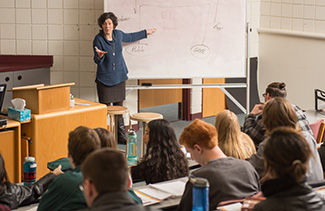 A course taken by all Hesston College students, Bib Lit helps students learn the Bible or salvation history story, how to do inductive Bible study and how various Christian groups approach and interpret the Bible. The course culminates in a project called "Heilsgeschichte" (Salvation History) in which students write or tell the Bible story from the beginning and connect the story to their own faith story.
In the mid 80s, a group of Hesston students found a thrift store treasure–four gas station work shirts embroidered with the name "Bill." The four young men dubbed themselves "The Bills" and made appearances on campus in their matching shirts. The Bills were known for their entertaining jokes, satire and pranks. A year or two later, a group of four women dubbed themselves "The Normas." The Bills and Normas started as a friendly rivalry and eventually became more of a unified team. Each year the Bills and Normas select their successors from among the freshmen. Next year's Bills and Normas will make appearances at a variety of campus events including the annual Talent Show.
Campus Activities Board is a group of students and the campus activities director who plan campus activities each week. Popular CAB activities include movie nights at the Chisholm Trail 8 (a local theater), game nights and coffee and canvases.
The Campus Activities Center is a gymnasium and home to Hesston's intramural athletics.
A weekly worship service (every Sunday evening) planned by students under the direction of the campus pastor.
A Newton donut shop and favorite late night haunt of area college students.
The college-owned arboretum about a block south of campus "cultivates transformative relationships between people and the land." It's a wonderful resource for people interested in Kansas' beautiful and hearty plants. Students enjoy its beautiful grounds and half-mile paved path which is great for walking, jogging or Rollerblading. Learn more at the Dyck Arboretum website.
The college music department plans a three- or four-week tour to Europe every other year. The touring choir begins rehearsing early in spring term and departs in early May. For more information, visit the Music Department page.
It's the college snack shop offering a variety of treats and beverages, open Monday – Friday mornings and Sunday – Thursday evenings.
Hesston's dorms are divided into "mods" — groups of several rooms — which are led by RAs (resident assistants). Each mod has a brother mod and a sister mod, other mods on campus with whom they plan activities and events, as well as mod parents, a couple or family in the community who hosts the mod for special occasions and such.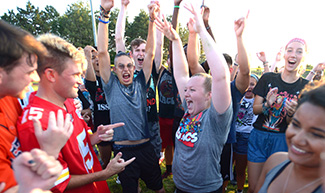 The best way to start a new year in a new place with new people is to let down your guard a bit and that's easier to do when everyone around you is letting down their guard, too. Mod Olympics is Hesston's signature mixer to bring the campus community together, help everyone feel at home and begin the process of building friendships with each other. We do this through a series of crazy relays, games and team-building activities. By the end of the evening you may end up pitching a cream pie in the face of your RA or, well, you get the picture. It's fun and it's a great way to start feeling at home on your first weekend in your new home.
A Newton truck stop famous for breakfast any time, pie and cheese fries. It's a late night gathering place.
A Hesston mod tradition–a group outing, often with a series of planned activities. In most cases, the mod gathers to plan the event, then, one by one, each mod member leaves the room so the others can pick a friend to accompany her or him, then returns to participate in the picking for others. Each mod member is responsible to invite his or her roommate's friend to the event. But none of the mod members are supposed to know who their friend will be. At the appointed hour mod members and their friends gather and the fun begins as the friends from outside the mod find their pick a friend for the evening.
The admissions office arranges meetings with instructors and lines up student hosts so that you can get a taste of life at Hesston College—staying in the dorms, eating in the cafeteria, attending classes and hanging out with current students. Visit the admissions page to schedule a visit.
The college hires a second year student to lead each mod. RAs help students move in and get acquainted with other students. RAs also plan mod activities during the year, provide a communication link between students and the Student Life staff and help administrators with enforcing campus policies.
A retirement community adjacent to campus.
A crew of Hesston students who help new students move into the dorms on opening weekend. Their job is to greet the new student and their parents to campus ("Shake" as in shaking hands) and carry (make that "Move") their boxes and suitcases and whatever else into the new student's dorm room. It's nice to come to campus and find someone here to help you almost as quickly as you open your car door.
Student Ambassadors work for the Admissions Office hosting prospective students and leading campus tours. One of them will host you when you visit campus as a prospective student. Schedule your visit today!
A log cabin and pond owned by the college and located about 8 miles from campus. SRC is used by students/mods for social events and gatherings.
A concert series sponsored by Hesston College. Students get free tickets to each concert.