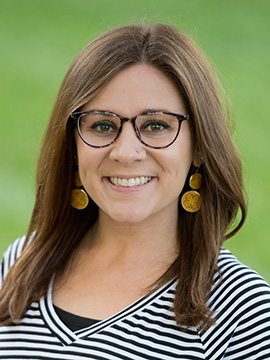 Admissions Counselor
Email
morgan.martin@hesston.edu
Office
Alliman Administration Center
Affiliated Departments or Programs
Education
A.A.A.S., Hesston College
In Addition …
What is your background?
I grew up in Lancaster, Pennsylvania and went to Garden Spot High School. I attended The Door Christian Fellowship and was heavily involved in the worship team, discipleship and young adult groups there.
Why did you chose Hesston?
My sister studied at Hesston College and shared many intriguing stories with me about her positive Hesston experience. I visited her several times, and enjoyed the small town feel and watching the performing arts and talent shows. I was interested in being a part of Bel Canto, theater and tennis along with studying early childhood education in a setting surrounded by people from all over the world as well as make connections with other Mennonites. I wanted a new adventure away from home and that's what I got!
What's your favorite Hesston College memory?
I LOVED being an RA (resident assistant). Planning special events with my girls such as horseback riding, fine dining and exploring coffee shops late at night in Wichita were a few of my favorite memories. My trip to Puerto Rico with 10 education majors was also high up there on the list as we went snorkeling, observed in elementary schools and toured a coffee plantation in the mountains!
What did you do after Hesston College?
Upon graduation, I moved home to Pennsylvania and began working as an elementary teacher's aide at Linville Hill Christian School. Alongside of working there, I was also a residence hall advisor at Lancaster Mennonite School, working with international high school boarding students. After working in Lancaster for four years, I had a desire to return to a place I've so often called my second home...Hesston, Kansas! I was eager to continue working with high schoolers, use my administrative skill set, travel around the country and share with young people my experience at Hesston College in hopes to allow others to be impacted by the same wonderful community!
How is HC the same now as when you attended?
Something that remains the same about Hesston College is the warm and friendly faculty and staff members who are truly invested in what they do and want to see you grow. Professors will sometimes have you over for a meal or even have class in their own home! The creative opportunities for fun in a small town continues to amaze me. There is always something to do for a study break whether that includes going to the movies, late night trips for food or taking fitness classes at the wellness center with your mod mates you will never run out of ways make friends!
How is Hesston better now?
One way I think Hesston is better now is through the extension of programs, specifically nursing. Now you can stay to receive your B.S.N. at the same college for four years.
What is some advice for high school students looking for a college?
Map out what you think is important for you in a college experience. Think not only about what major you want, but also about what activities you wish to be involved in, what you hope community will look like and what you need as far as holistic support in order to thrive and be a healthy and driven individual. Ask questions. Don't just assume. Dig deep to find if Hesston truly is a good fit for you!
Related Links