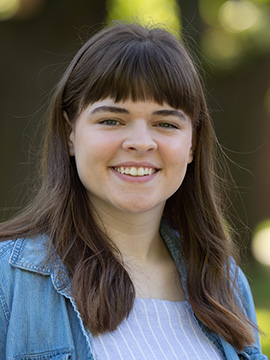 Admissions Counselor
Email
kathryn.roth@hesston.edu
Office
Alliman Administration Center
Affiliated Departments or Programs
Education
A.A., Hesston College, 2017
B.A., Bluffton (Ohio) University, 2019
In Addition …
Where did you grow up/what high school did you attend?
I grew up in rural Northwest Ohio. I graduated from Pettisville High School in 2014 where I was a member of the audition choir "Noteworthy" and participated in theater.
Why did you choose Hesston?
I had taken a year off after high school as I had very little idea what I wanted to do later in life. I grew up aware of Hesston but never thought much more about it. Eventually, a couple of my classmates from high school attended and highly recommended coming for a visit. Since then I've never looked back.
What is your favorite Hesston College memory?
My affinity for anything sweet makes me lean towards late night Druber's runs. Second to that, my favorite memories involve being given the chance to work in roles I never would have thought I fit into without the trust of the amazing faculty on campus. The moments they boosted my confidence in ways I didn't think possible are innumerable.
Where did you go after Hesston? what degrees did you earn?
I transferred into Bluffton University in Ohio, where I majored in English. While some deem this a useless degree, at least it's gotten me this far.
What is the same about Hesston as when you attended?
Seeing as it has only been two years since I graduated, many of the faculty and staff are still here, which made the transition back here very comfortable and enjoyable. A strong sense of Hesston's signature "community" still remains.
What makes Hesston better than when you were a student here?
After attending this springs commencement, I've felt an even stronger celebration of diversity than the years I had attended in the past. Everyone from around the world celebrating each other in their accomplishments is an amazing thing to witness and I believe that it is only getting better.
Related Links