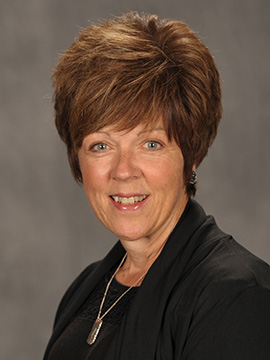 Vice President of Student Life
Affiliated Departments or Programs
Education
A.A., Hesston College
B.A., Goshen (Ind.) College
M.S., Kansas State University (Manhattan)
Personal Statement
As a member of the faculty, I consider it a privilege to relate to students who teach me far more than I am able to teach them. Hesston College students frequently inspire me with their commitment, energy and willingness to serve others.
I treasure the opportunity to walk with students who face barriers on a variety of levels: a learning disability, a less than supportive home environment or under-preparedness for college study. There is nothing more exciting than sharing the moment of accomplishment with these students who were offered a chance to demonstrate their abilities in the college setting.
As a Hesston College alumna, I find it rewarding to witness the Hesston Experience recurring each year. What a pleasure to observe students growing in their faith and intellect while experiencing friendships that will last a lifetime!
Professional Affiliations
In Addition …
Personal interests/information
Married and mother of three sons. Active member of Whitestone Mennonite Church in Hesston, Kan. Enjoy reading, attending sons' sports and music activities and walking.
Related Links