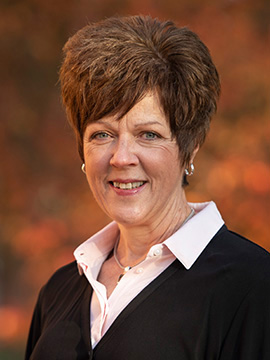 Vice President of Student Life
Email
deb.roth@hesston.edu
Affiliated Departments or Programs
Education
A.A., Hesston College
B.A., Goshen (Ind.) College
M.S., Kansas State University (Manhattan)
Professional Affiliations
In Addition …
Deb grew up on a farm in rural Iowa where imaginary play allowed her to be a grocery store cashier, a waitress, a missionary, a taxi driver and a country singer, but ultimately, she wanted to be a teacher! She attended Hesston College and graduated from Goshen (Ind.) College with a degree in elementary education. After teaching grades 4-6 for seventeen years, Deb moved to the college level to continue her career as an educator when she joined the Hesston College faculty for seventeen years in the area of student success and retention.
With a master of science degree in adult, occupational and continuing education from Kansas State University, Deb started her vice president of student life role in 2019 to oversee areas of residence life, dining services, athletics, campus ministries and counseling services. Deb loves working with young adults who are learning what it means to live and learn away from home for the first time and watching them gain independence and grow in their leadership skills.
The youngest of three daughters, Deb and her husband Clark were blessed with three sons which proves God has a sense of humor! Deb's husband, sons and daughters-in-law are all Hesston College alumni. Garrett is teacher at the local high school, Eyan is a med student at KU in Wichita, and Alex is a quality manager in the RV industry in Indiana where he lives with his wife and three young sons. "Granna Deb" enjoys 13-hour road trips to Indiana as often as possible!
Deb enjoys singing and leading worship at Whitestone Mennonite Church where she serves as Overseer of Worship. She also finds her "flow" planning classes, meetings, weddings and events, including the college's Leadership Training Program.
Related Links