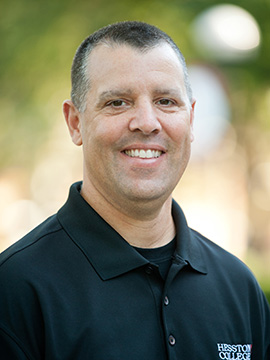 Assistant Director of Admissions
Email
charlesh@hesston.edu
Office
Alliman Administration Center
Affiliated Departments or Programs
Education
A.A., Hesston College
B.A., Wichita (Kan.) State University
In Addition …
My background
I was born in south Texas but grew up in Hesston, Kansas, and I am the third of four children (three boys and one girl) of Joe and Norma Hostetler. I graduated from Hesston High School in 1987, Hesston College in 1989 and Wichita State University in 1993.
Why I choose Hesston College
The decision to attend Hesston College was an easy one. In fact, there was not much of decision to make. Both of my parents worked at Hesston College and I could walk out the backdoor of our house and be on the campus. Because I hadn't decided on a major, a Liberal Arts degree made a lot of sense to me. Hesston College was the perfect fit. It was also a good financial decision for me because my parents worked here.
My favorite Hesston College memory
As a student: I don't know if I have a specific Hesston College memory that is my favorite. However, I would say the best times I had at HC were spending time with other students talking and getting to know each other better. Times that stick out in my mind include the canoe/camping trip I went on to Arkansas, RA retreat, rock climbing, and just hanging out in the mods and lounges with friends.
As a counselor: My favorite times are meeting prospective students, hearing their stories and trying to help them reach their educational goals. I also enjoy getting to know as many of the incoming freshmen as I can and getting to know the sophomores better. This makes it tough to see them graduate, but it is fun to see them move on to the next step of their lives and know that you may have touched in some small way. What they don't know is that they also have touched me and made my life better.
After Hesston
After graduating from Hesston College in 1989 I still didn't know what I wanted to do for a career and I was getting tired of going to school, so I decided to enter the workforce. I went to work full time for King Construction Company which specializes in bridge construction. This is a job I had gotten after high school graduation and continued to work at part time while at Hesston College. I enjoyed most parts of the job, but after a 1½ years I knew I didn't want to do that the rest of my life and I decided to return to college. In January 1991 I enrolled at Wichita State University and I graduated in December 1993 with a bachelor of arts degree in communications.
While working on my bachelor's degree, I worked at KSNW, the local NBC television affiliate in Wichita. I was a cameraman for the live evening news shows. It wasn't a bad job, but I realized that live TV news was not what I was looking for as a career so I moved back to Hesston and became an assistant golf professional at the Hesston Golf Park. I was at the Hesston Golf Park for eight years before being hired as an admissions counselor at Hesston College.
Hobbies
Probably my number one hobby is golf, which should not come as a surprise considering I was in the golf business for more than eight years. I also enjoy doing yard work, working on my house, spending time with friends, listening to music (Jimmy Buffett is my favorite), reading (all types of books, but I prefer non-fiction), and watching sports (especially football and college basketball).
How Hesston is the same as when I attended
The types of students, faculty and staff have not changed much over the years. I think this helps to maintain the close community feeling that characterizes Hesston College. It is a big reason why I chose to come here as a student. After attending a big state university I realized, even more, how special my time was at Hesston. I knew people at WSU, but I felt more like a number than a person to many of the professors, especially those in the big lecture classes. At Hesston, everybody still goes by first names rather than "Doctor" or "Professor" and that helps to make it one of the friendliest campuses I have ever been on.
What makes Hesston better than when I was a student here
I think that the biggest improvements to Hesston College have been in the new and renovated facilities. Since I graduated, there are four new buildings; new soccer, baseball, and tennis facilities and four existing buildings have been renovated. Another improvement has been in the food services. The food has always been good, but now there are more choices during each meal. There is also a remodeled and expanded snack shop, The Larks Nest, which opened during the Fall 2002 semester.
One thing every prospective student should know about Hesston
Hesston College is a two-year college, but that doesn't mean that the education, student life, or anything else is typical of most two-year schools. The education is top notch and the student life is second to none. If your looking for a good place to start your education, in a Christ centered community environment, then Hesston College is definitely the place for you.
Related Links