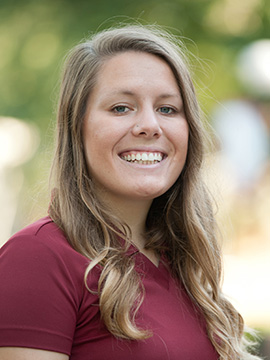 Admissions Counselor
Email
carley.wyse@hesston.edu
Office
Alliman Administration Center
Affiliated Departments or Programs
Education
A.A., Hesston College
B.A., Goshen (Ind.) College
In Addition …
What is your background?
I grew up in Ohio and went to Archbold High School. I also attended Central Mennonite Church.
Why did you chose Hesston?
My Dad is an alum and I grew up hearing all of his awesome college stories! When my brother was a student here I came out to visit him and fell in love with campus and how kind and caring everyone was! I was also excited for the chance to get to play soccer and become a member or such a diverse campus.
What's your favorite Hesston College memory?
I am only supposed to pick ONE? There are too many to count! When I think about Hesston I think about late night Druber's (donut shop) runs with amazing friends, Harry Potter marathons, evenings in the ceramics lab, cooking a traditional Japanese meal with my two international friends on the soccer team, and soft serve ice cream...so much ice cream!
What did you do after Hesston College?
After Hesston I transferred on to Goshen College and graduated with a Multi-media Communications major and Public Relations minor. I had an awesome transfer experience and Goshen welcomed me with open arms, but I was still craving that close knit community that I experienced at Hesston. That community I felt here helped me make a smooth transition into college and I knew that there was no where else I would rather be during my transition into adulthood. As soon as I graduated from Goshen I applied for the job as an Admissions Counselor at Hesston and now I am back at my second home working in a job I feel very passionate about!
How is HC the same now as when you attended?
Upon returning to Hesston I was welcomed back into that same amazing community I experienced at a student. I could talk all day about how nurturing and supportive the professors, resident directors and students are here at Hesston. I think because only about 50% of our students are from Kansas and the rest come from all over the U.S. and the world means that everyone who comes to Hesston is looking for a place to belong and matter which creates a great atmosphere on campus. This is something that will never change about Hesston and was so important to me as a student and continues to be as a staff member.
How is Hesston better now?
I think that since I have left I have seen the Campus Activities Board grow and thrive! There were and have always been great campus activities going on every weekend but I have just seen students really get involved in the brainstorming and planning of great campus events. The C.A.B. staff and student workers are really putting in effort and time to make sure students have great options for social events and activities on campus. Some really cool things I have seen on campus in the last few years are the cultures mixer, manhunt (late night, campus wide hide and seek), evening sand volleyball tournament with sno-cones and even discounted movie tickets at the local theater!
What is some advice for high school students looking for a college?
GO ON CAMPUS VISITS!! Go to multiple different schools so you can compare what you liked and disliked about each college. Going on just one campus visit does not give you anything to compare the visit to. For me personally I had heard so much about Hesston and the great community from my brother and dad but I didn't really understand what that looked like on a college campus. I only really understood what they meant, and what I wanted from a college, by coming out to Hesston for a visit. As soon as I was here and could actually stay the night in the dorms and meet with a professor, I knew that Hesston was the right place for me!
Related Links