We invite you to commit to the future by donating $120 – the equivalent of $10 a month – to ensure future generations of Larks will experience a strong Hesston College.
When you commit to the future, you're passing on the gift of a Hesston College education that nurtures each student in Christ-centered community.
Commit to the future of Hesston College
You can commit to the future of Hesston College today through your Phonathon donation. Whether you came as a student, had a child or grandchild attend, or are connected in other ways, you know the importance and impact of Hesston College. Your commitment to support Hesston not only impacts our current students, but will someday make a difference for the littlest future Larks.
Would you be willing to give the cost of a few cups of coffee to help commit to the future of Hesston College? This year we are inviting you to consider making a donation of $120 or committing to $10 a month. By donating monthly you become a GEM (Giving Every Month)
Our current and future Larks are counting on you. You don't need to wait to commit to the future of Hesston. You can donate today by:
Please note that your gift is for "Phonathon"
Be sure to check "A recurring gift" to start donating monthly and become a GEM.

Returning the enclosed envelope with your donation.
Talking with one of our student callers (they are actual current Hesston College students!) who will be calling from October 12 through November 17.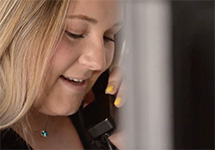 "It's amazing to talk to alumni and hear about their Hesston Experience and a little bit of what their journey has been like." ­­
– Ashley Yasin '20, three-year Phonathon student caller