Bless the Nest – Transform the Lives of Current and Future Students
As an alum or friend of Hesston, you know the powerful impact of the Hesston Experience! This is your opportunity to ensure that our current and future students can experience the transformative journey of Hesston. Your gift today will have a ripple effect on future generations, providing them with the tools to carve their own path toward greatness.
Life can be busy and complex balancing work, family, friends, and personal pursuits. Hesston offers a simple option for you – an automated monthly donation of just $10 or a one-time gift of $120 will bless the nest in powerful ways. You might wonder if this can really make a difference. The answer is a resounding YES! Your donation combined with that of other supportive alumni and friends becomes a force for change, transforming the lives of current and future students.
BLESS THE NEST and transform the lives of current and future students today by:
Mark your designation as "Phonathon"
Be sure to check "A recurring gift…" to start donating monthly and become a GEM or give a one-time gift.

Talk with one of our student callers on October 18 to November 21 and give them the good news that you are interested in making a donation to bless the nest!
Thank you for your commitment to Hesston College and for being a driving force behind the success of our students! You are supporting the dreams of countless students and their futures beyond Hesston. We are immensely grateful for your continued support and prayers.
You are fostering an environment where students can excel academically, grow personally, develop their faith and build lifelong friendships.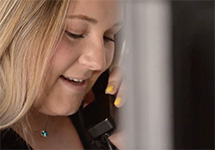 "It's amazing to talk to alumni and hear about their Hesston Experience and a little bit of what their journey has been like." ­­
– Ashley Yasin '20, three-year Phonathon student caller