It's Hesston College Phonathon time!
You can talk to a Hesston College student soon – and yes, the students calling you will ask for financial support for the college.
That support – no matter the size of the gift – makes a difference. It supports core needs from student scholarships to academic program development and student activities. It covers every aspect of a student's Hesston Experience.
But Phonathon is more than just asking for money. It gives students an opportunity to connect with alumni, however briefly, for a moment of shared connection.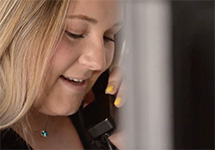 "It's amazing to talk to alumni and hear about their Hesston Experience and a little bit of what their journey has been like." ­­
– Ashley Yasin '20, three-year Phonathon student caller
Phonathon will run from mid-October to late November, with a goal of raising $100,000. Consider giving $106, which is the number of upperclassmen enrolled in Hesston's nursing and aviation bachelor degree programs. Your Phonathon donation can be made by:
Picking up the phone when Hesston College calls. It will be a Hesston College student on the other end (please be kind), and they'd love to hear about your Hesston Experience and share their own.
Donating online. Be sure to note in the "designation" menu that your gift is a Phonathon contribution.