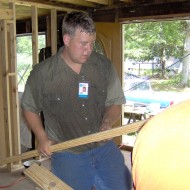 Brett Troyer, a 2006 grad from Shickley, Neb., is employed by Mennonite Disaster Service (MDS) as the Project Logistics Coordinator. He works mostly at either at the MDS warehouse in Lititz, Pa., or at the MDS warehouse in Columbus, Miss., or delivering equipment to various sites around the country. As Logistics Coordinator, he is in charge of all of the vehicles, tool trailers, tools, RV's, etc.
"I've found that the Disaster Management Program has allowed me to do things that I really love, such as working with my hands and working directly with people in need. I also feel it has been important to the development of my Christian faith through the opportunities of service, meeting new people, building relationships, working with and learning about the church and my Mennonite heritage."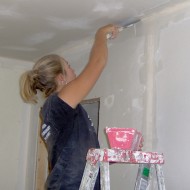 Alicia (Hertzler) Hurst, a 2007 grad from Lancaster, Pa., is the Volunteer Placement Coordinator for MDS in Lititz, Pa.
"You learn to be a witness to the community around you, but you are also overwhelmingly humbled and filled with compassion when you hear the stories of homeowners or bond with a youth group during the week. What an amazing life tool to learn the art of being blessed as you serve. I think that the people that I spent time with during my two summer experiences are faces that I will never forget and always feel connected to."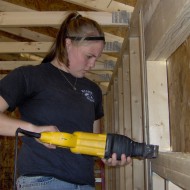 Jackie (Shaw) O'Brien, a 2008 grad from Lowvillle, N.Y., has been a long-term volunteer with MDS, and has led groups with Habitat for Humanity in Nicaragua, Romania and Guatemala.
"Every aspect of this program was absolutely worth it and very valuable in making me who I am. The summer field experience, summer internship and service projects were the most beneficial to me because we got to experience first hand everything we were taught in class. We got to put into practice what we had learned and it was just amazing. This experience left me with a feeling of a new confidence and understanding of who I am and who I wanted to be."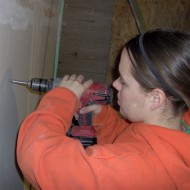 Alyssa Hostetler, a 2009 grad from West Liberty, Ohio, worked as an MDS Project Director in Colorado, cleaning up, repairing and rebuilding homes that were damaged by flooding. She was based at the Sylvan Dale Guest Ranch near Loveland. The ranch made its facilities available to MDS as the project site.
"It is clear that the most important part of the program and the part with the greatest impact has been while we were working at different sites. Learning basic construction skills was definitely part of it, but more important are the relationships we have all formed over the years. The program has gone far beyond what we will do in the world; it has changed who we will be for the world."
Darin Bontrager, a 2011 grad from Archbold, Ohio, served as a Support Team Leader with FEMA Corps from 2013 to 2014. He was based in Vicksburg, Miss., but did a lot of traveling to various sites. He was the Support Team Leader of several teams based at various locations.
"My experience in the Disaster Management Program and as part of the Hesston campus has made an incredible impact on my life. Through intensive study, hands on experiences and lots of meaningful relationships, I am forever grateful for my time here. The DMP in particular has been a vital part of shaping my strong desire to serve and help others through a variety of experiences. The attitude of service, leadership and being culturally aware of those around me has made a profound impact on my life."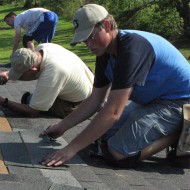 John Schoenhals, a 2011 grad from Archbold, Ohio, is the chairperson of the MDS Western Ohio unit.
"My leadership skills have grown by leaps and bounds since starting the DMP. I have been able to use these skills in several capacities since graduation, and hope to continue. Also, the life experiences and relationships I have built with classmates, clients and other adults have shifted and broadened my perspectives and made me more open to new experiences. I find myself telling stories and relating experiences from the DMP quite often."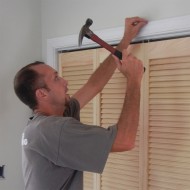 Joey Stoltzfus, a 2012 grad from Franklin, Tenn., is a Disaster Services Manager with Hope Force International, a nonprofit disaster response organization. The home base of Hope Force International is Brentwood, Tenn., a suburb of Nashville. Joey has gone to the East Coast and to Oklahoma so far to help with the disaster responses.
"The Disaster Management Program provided the right environment for this non-traditional student, husband and father of five to grow in experience, skills and knowledge. The two-fold approach of classroom time and time in the field allowed me to turn the information into knowledge and meet some great people along the way. The investment through relationships of the Hesston College staff and faculty was priceless. Thank you."