Hesston College Registrar Sandra Hiebert announced the names of full-time students whose fall 2020 semester grades earned them a place on the Dean's List (3.90 to 4.00 GPA) and Honor Roll (3.50 to 3.89 GPA).
Dean's List – first-year students
Katie Alaniz, Longmont, Colo.
Shelby Bontrager, McPherson, Kan
Jack Brinkley, Mckinney, Texas
Alyssa Burkholder, Hillsboro, Kan.
AnDena Collins, Hutchinson, Kan.
Emily DeMartino, Virginia Beach, Va.
Bella Dietrich, Wichita, Kan.
Alisha Dorsing, Othello, Wash.
Mariah Gilmartin, Wichita, Kan.
Ethan Hildebrand, Stafford, Kan.
Fortesa Hysenaj, Istog, Kosovo
McKayla Long, Highland, Calif.
Kelly Miller, Archbold, Ohio
Alyssa Nolt, Dalton, Ohio
Carson Orpin, Canton, Kan.
Shunsuke Otonashi, Tenri, Japan
Samuel Otto, Orrville, Ohio
James Peters, Hesston, Kan.
Hauw Raharjo, Semarang, Indonesia
Justin Smith, Beaumont, Texas
Aidan Swartzendruber, Henderson, Neb.
Marshall Woolf, Stafford, Kan.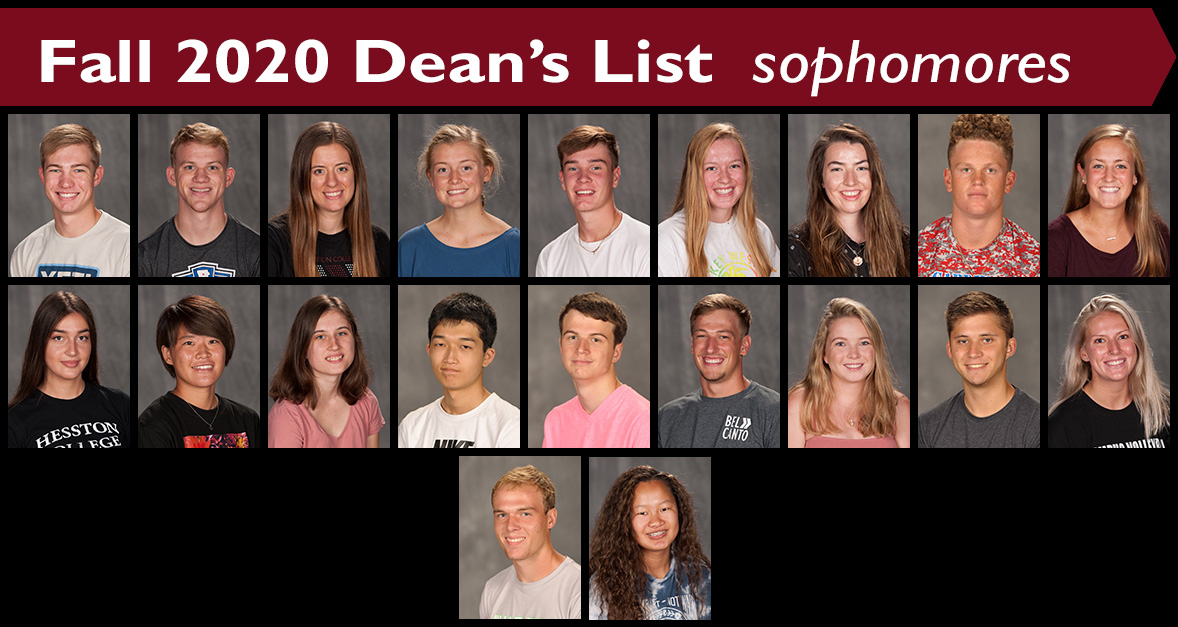 Dean's List – sophomores
Aidan Boettcher, Benton, Kan.
Jacob Boller, Kalona, Iowa
Sydney Bontrager, Milford, Neb.
Jessica Buckwalter, Yona, Guam
Devin Catlin, Dexter, Kan.
Olivia Galbraith, Millersburg, Ohio
Myley George, Woodland Hills, Utah
Kauy Kuhn, Cheney, Kan.
Kara Longenecker, Rockingham, Va.
Sidorela Mjeshtri, Lac, Albania
Kanade Morita, Chigasaki, Japan
Claire Moyer, Thompsontown, Pa.
Yuya Muranaka, Hiroshima, Japan
Daniel Ochs IV, Hutchinson, Kan.
Caleb Oesch, Caldwell, Idaho
Mikayla Ognissanti, Rocklin, Calif.
Mason Richer, New Paris, Ind.
Tannah Tilley, Derby, Kan.
Tanner Unruh, Washington, Ill.
Hannah Williams, Corning, Calif.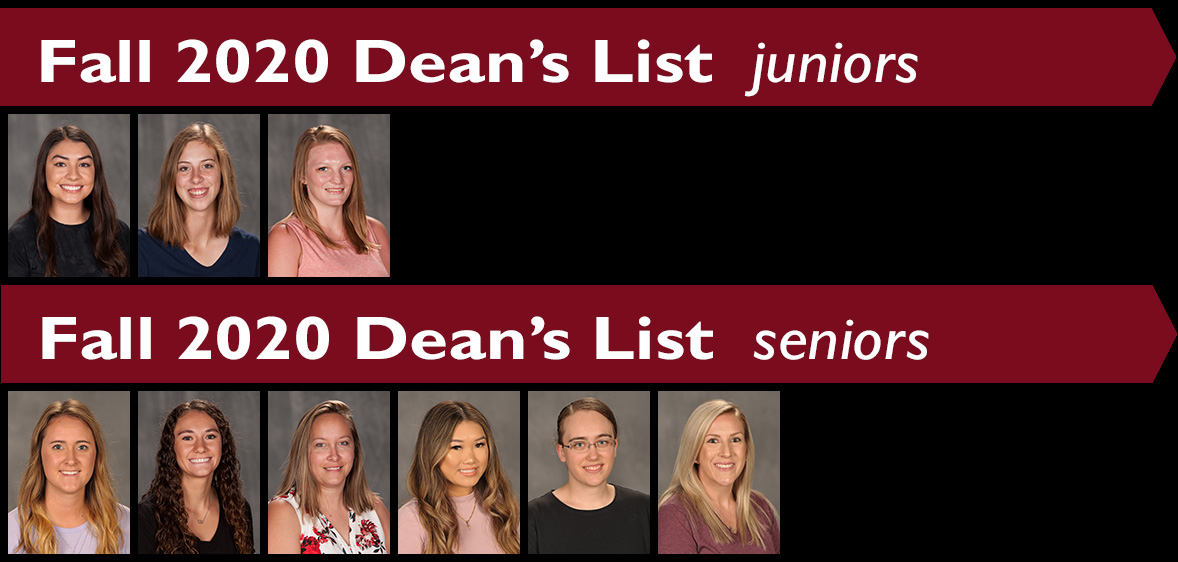 Dean's List – juniors
Alexis Avalos, Yucaipa, Calif.
Dara Ness, Goddard, Kan.
Andrea Pickering, Wichita, Kan.
Dean's List – seniors
Tess Anderson, Williamsburg, Va.
Annalys Hanna, Fraser, Colo.
Emerald Packard, Hutchinson, Kan.
Daisy Pham, Wichita, Kan.
Laura Riehl, Hutchinson, Kan.
Mogan Walter, Wichita, Kan.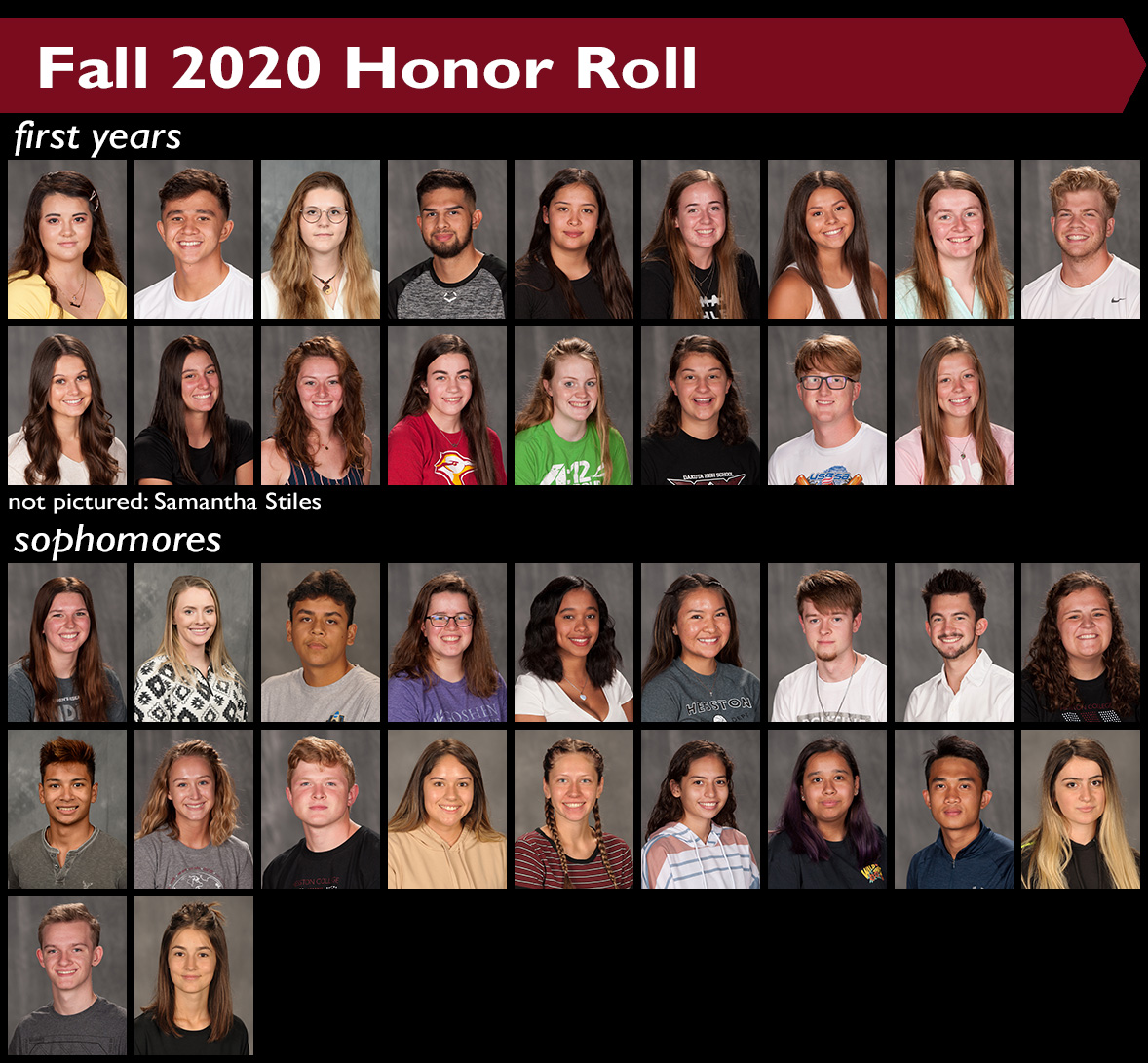 Honor Roll – first-year students
Shinju Baxter, Sedgwick, Kan.
David Beachy, San Nicolas, FIN, Philippines
Sara Bianchi Muschio, Trento, Italy
Benjamin De La Rosa, Dallas, Texas
Maria Gerber, Dallas, Texas
Kimberlin Hopson, Sanger, Texas
Madison Huber, Wichita, Kan.
Bethany Masters, Dundee, Ohio
Jacob McKenzie, Andover, Kan.
Madison Michalek-Rosales, Lakeside, Calif.
Jewel Norris, Bel Aire, Kan.
Julia Seifert, Columbia City, Ind.
Samantha Stiles, Bentley, Kan.
Chyandra Teague, Claremore, Okla.
Porclein Unruh, Newton, Kan.
Paige Weber, Freeport, Ill.
Coby Winters, Wichita, Kan.
Alexis Zehr, Burrton, Kan.
Honor Roll – sophomores
Caroline Barger, Newton, Kan.
Courtney Crane, Wichita, Kan.
Cayden Diccion, Piedmont, Okla.
Morgan Graybill, Freeport, Ill.
Cristal Guzman, Dominican Republic
Destiny Kessay, McNary, Ariz.
Brayden Ketley, El Dorado, Kan.
Ethan Klassen, Mountain Lake, Minn.
Natalie Ladd, Hesston, Kan.
Jaden Lais, Grantsville, Md.
Grace Litwiller, Hopedale, Ill.
Alexander Miller, Arlington, Kan.
Natalie Paramo, Plumas Lake, Calif.
Erin Peters, Hesston, Kan.
Jennifer Rodriguez, Corpus Christi, Texas
Lesly Tello, Kansas City, Kan.
Benny Thawng, Yangon, Myanmar
Romina Xhari, Lezhe, Albania
Quinton Yoder, South Euclid, Ohio
Benisa Zogu, Lezhe, Albania