The skies over south central Kansas are abuzz with the excitement and energy of student pilots in flight as Hesston College settles into its newest bachelor degree program in aviation-professional pilot.
In the inaugural year of the expanded program, Hesston College Aviation is flying with 47 students, an increase of nine from the spring 2019 semester. Total program enrollment includes students in all areas of aviation offerings – both the four-year and two-year professional pilot options, as well as the air traffic control program, which requires students to get a private pilot's license, and 12 non-degree seeking students. The four-year program launched in August with four junior students comprising the first bachelor degree class, as well as 15 first-year students ready to begin their training.
"We're busy," said Hesston College Aviation program director Mike Baker. "Students are flying every chance they get."
As the college worked toward aviation program expansion during the 2018-19 year, it began to prepare for an increase in student numbers, both in fleet availability and flight instructors to accommodate student pilot training needs.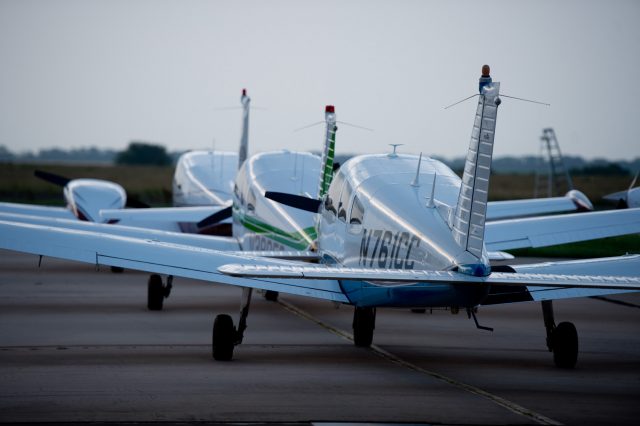 In fall 2018, the college developed a $1.4 million five-phase fleet expansion plan to add a minimum of five standardized aircraft and two training devices to the program's assets over the next year. Completion of the plan will initially increase the fleet to a minimum of 10 aircraft.
"Hesston College Aviation's fleet expansion plan is imperative for the program's competitive advantage, specifically within the professional, collegiate-based aviation training environment," said Baker. "We're incorporating an aggressive acquisition plan for a minimum of five Piper PA-28-181 Archer II series aircraft, foundational to our growth trajectory as a four-year academic program."
To date, the college is in phase three of the plan. Three Piper PA-28-181 Archer II aircraft installed with standardized avionics platforms have been added to the fleet. At least two more aircraft will be added to the fleet to finish out phase three, while simultaneously working on phase four – evaluation of the current Cessna fleet for upgrades. Phase five will work to establish and grow a robust endowment for aircraft renewal and maintenance.
"Inherent to this acquisition plan is fleet commonality, an intentional development and integration of a standardized flight instrumentation and avionics package," said Baker. "A standardized avionics platform enables each student to have consistent, focused training, while exposing them to the next generation of avionics architecture. This will better prepare our students for opportunities that may present themselves during junior- and senior-year internships, and as they transition to careers with an air carrier or corporate flight department."
From a personnel standpoint, more students equates to the necessity for more instructors. With the new bachelor's degree focused on hands-on industry experience, the program's juniors and seniors who have earned Certified Flight Instructor status, will work as flight instructor interns for the college, helping to teach first- and second-year students in the cockpit.
"I'm taking everything my instructors gave me, and helping to dispense that to the next generation of aviators," said junior DJ Kintigh of Middlebury, Ind.
Juniors and seniors also have opportunities for internships with area aviation industry partners.
Junior Austin Troyer, Rockingham, Va., is interning with FlightSafety Textron Aviation Training in nearby Wichita as a second-in-command (SIC) in the Raytheon-Hawker RA-4000 series aircraft. FlightSafety Textron Aviation Training is a partnership between two industry leaders – Flight Saftety International, a globally-recognized premier aviation training and simulator manufacturing organization, and TRU Simulation + Training, a Textron, Inc., company, also known for simulator training for Textron products and simulator manufacturing.
"For, me, one of the attractive components of Hesston's bachelor's degree program in aviation is the opportunity to intern with various industry leaders in the local aviation community, said Troyer. "As an RA-4000 SIC, I fulfill a valuable role as a qualified first officer during training, testing and checking events in the full-flight simulator and other advanced training devices."
Prior to assuming a qualified crewmember role in the training and checking environment, Troyer was required to attend FlightSafety Textron Aviation Training's Raytheon-Hawker RA-4000 initial training program, which included nine days of ground school and another seven days in the simulator. Upon completion of training, he received a Title 14 Code of Federal Regulations (CFR) Part 61.55(b) SIC qualification that enables him to fulfill the duty function.
"Hesston College has done a great job in getting us prepared for opportunities such as this," said Troyer. "In this internship, I have an amazing opportunity to continue to work and learn with this aircraft on a daily basis, as well as network with professional aviators from around the world. It's an opportunity that not many junior-level college students have."
With the pilot industry currently in high-demand, Troyer knows the experiences and connections he gains through Hesston College Aviation will be a benefit in his future job search.
"When I begin looking for a flying job, I already know pilots, owners, operators and chief instructors of countless companies from all around the world," said Troyer. "It will be a huge leg up to finding the right job for me in the future."