A team of Hesston College students participated in a Leadership Challenge Event on April 5 and 6 at Washburn University (Topeka, Kan.), and came away with recognition of their work.
The team of five students, who are enrolled in an Adaptive Challenges in Leadership course at Hesston, competed against 10 other teams from colleges in Kansas and surrounding states. Each team member played a role at a fictitious "Central Kansas University" – Director of Student Activities, Residential Life Coordinator, Director of Health Services, Director of University Relations and Dean of Students – and in their team roles, had to investigate allegations of dangerous hazing among members of the university's marching band, meet with senior members of the university's administration, formulate response plans and action plans to eliminate future incidents, and present their ideas orally to two judges.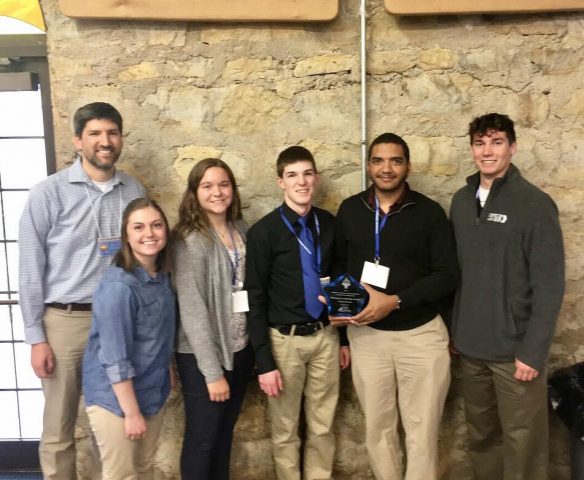 The Hesston team's efforts earned them the Emerging Leadership Award, which is given to the highest scoring team among those in their first or second year at the event.
"These students weren't sure what to expect, but they were eager to learn and they worked well together," said Brent Yoder, instructor of Hesston's Adaptive Challenges in Leadership Course and vice president of Academics. "This was an adaptive challenge, and they recognized that good leadership in this simulation involved exploring tough interpretations, engaging unusual voices and speaking to loss. They should be proud of the way that they performed, representing Hesston College as five sophomores competing against many large universities."
Members of the team were sophomores Keegan Cook (Whitewater, Kan.), John Ebaugh (Holtwood, Pa.), Sarah Miller (Freeman, S.D.), Jaelyn Rufenacht (Pettisville, Ohio) and Kyle Stucky (Moundridge, Kan.).