One of two things can happen when you present eager and energetic elementary-aged kids to be led by college freshmen and sophomores for 20 minutes – chaos or connection. The latter was the case for Hesston College's Recreation Leadership students during the fall semester as they provided the game programming during WOW (Whitestone on Wednesdays) at Whitestone Mennonite Church (Hesston).
The arrangement between the course and the church follows Hesston College's promise to give students hands-on experiences in their first two years of college, and professor Clay Stauffer says the arrangement accomplished just that.
"Having our class work with the kids at Whitestone was a really good thing as it gave the students experience interacting with people they didn't know very well," Satuffer said. "It's one thing when you're leading your classmates in an activity, but to do that for strangers – energetic kids no less – really gives our students good practical experience for their future careers."
The Recreation Leadership class is an experiential-based learning course through event coordination in real life settings. Aside from planning and leading games weekly at WOW, the class also organized and hosted the college's annual two-mile run/walk, The Manickam Mosey, which drew about 225 participants during Homecoming and Inauguration Weekend in September.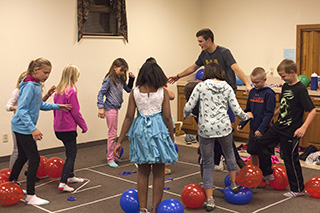 Whitestone's WOW program gives children in kindergarten through fifth grade a place to worship and learn more about their faith with their peers through Bible study, activities and a meal. A description on the church's website says, "It is a time meant for building relationships and learning about God's love and the teachings of Jesus."
"The WOW children thoroughly enjoy interacting with college students," said Kara Swartzendruber, Whitestone Family and Children coordinator. "One strength of the WOW program is intergenerational relationships, and having Hesston College students involved in leading games enhances that connection between generations."
As an integration class, the Recreation Leadership course draws students from a wide range of majors, including sports management, exercise science, physical education, education, pre-physical therapy, business and still deciding.
"Students bring what they've learned in other classes and are able to apply it to real world situations and experiences," said Stauffer. "We talk a lot about servant leadership in event leadership, so opportunities like this allow students to see what that really means in practice."
Each week at WOW, a Hesston College student would plan and lead the children in three games with the help of two of their classmates. The children were divided into groups based on their ages, giving the college students a chance to work with different age groups and developmental levels and learn skills like conflict management and teamwork.
"Leading games at WOW will definitely help me in my future career," said freshman Cassidy King (Cochranville, Pa.), who is studying special education and physical education. "WOW gave me experience teaching kids, learning how to speak to the different age groups and adapting to children who learn in different ways. I had so much fun getting to spend time with the kids and watching them laugh and play together."
"Learning how to communicate the rules of the games in the best manner was a challenge," said sophomore pre-physical therapy major Preston Judd (Hayden, Ala.). "Once everyone understood what was supposed to happen, it was rewarding to watch them learn and create new strategies as the game went along."
Stauffer and Swartzendruber would agree that an important take away for both the college students and the children was the connections.
"In this class, servant leadership includes community outreach," said Stauffer. "The students really enjoyed the connections they made."
Photos by Jaden Hostetter