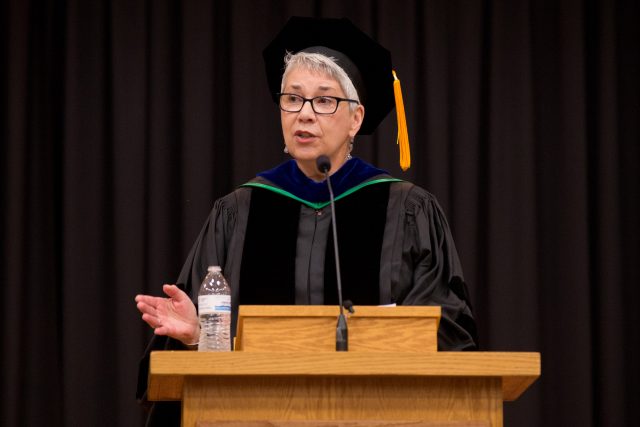 Hesston College class of 2017 graduates were encouraged to live their legacies with passion during Commencement exercises on Sunday, May 14.
Commencement speaker, Dr. Marie Schuessler Morris, delivered the address "How's My Driving? Everyday Calling and Legacy." Based on Romans 12:9-13, Dr. Morris encouraged graduates to listen for and respond to God's calling in their life, whatever it may be, and then to live out that calling to the best of their abilities.
"We are all living our legacies every day with the choices we make and the passions we pursue," said Dr. Morris. "What legacy are you living? How's your driving?"
Dr. Morris, a 1979 Hesston College graduate, is an accomplished leader in higher education and nursing, who serves as provost of Anderson (Ind.) University.
The 2017 celebration also marked the college's first granting of bachelors degrees in 60 years as the first cohort of the college's bachelor of science in nursing (BSN) students were recognized for completion of the program. The class of 2017 included 17 BSN graduates and 132 associate degree graduates.
Two graduating students, Cassidy Bontrager (Wellman, Iowa) and Jonah Short-Miller (Bellingham, Wash.) were chosen by faculty, staff and their graduating peers to serve as student speakers at Commencement.
Individual student groups were recognized in special ceremonies May 13.
A nursing pinning ceremony honored 53 nursing graduates – 17 bachelor degree graduates and 36 associate degree graduates. The ceremony marked the 50th graduating associate degree class and the first graduating bachelors degree class. The message, "Pay Attention. Have Courage. Always Care." was delivered by Dr. Morris.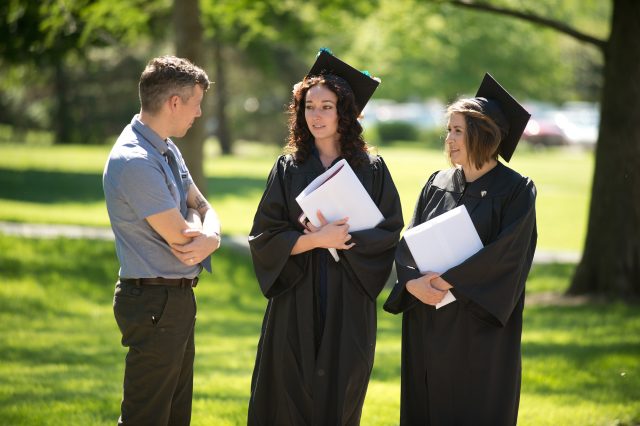 A recognition ceremony was held for student completing the Disaster Management Program. Darin Bontrager, a 2011 Disaster Management graduate, delivered the message "Zip-lining into the Dark." Bontrager is Mennonite Disaster Service's Weekly Crew Volunteer Placement Coordinator based from the Bi-National Office in Lititz, Pa.
The Aviation department honored graduates completing the professional pilot program of study. Jerry Eichelberger, a 1985 Hesston Aviation graduate and manager of the FAA Wichita Flight Standards District Office delivered the reception address.
Click here to view a video of the full commencement exercise and other livestream events from the weekend.