Hesston College is entering the public phase of a $6 million capital campaign to address facility needs in the nursing and athletic programs. The campaign opened in the summer of 2016, and administrators and development officers have been working for the past year to secure lead gifts. To date, $2.4 million in formal pledges has been secured with several other pledges or gifts in process.
The campaign, known as the "Be Greater Capital Campaign," will address core facility needs within the college's two largest program areas. In the fall of 2016, nursing students made up 41 percent of total enrollment, while athletes made up 40 percent of enrollment. Yet the spaces for these programs – Lemons Center for nursing and Yost Center for athletics – are not sufficient to accommodate current program needs and inhibit the full student experience.
Both the nursing and athletics portions of the project carry a $3 million price tag and will focus on the renovation of existing facilities plus building expansion with new spaces to better serve students.
"We are excited to shift into this public phase and continue making progress toward our $6 million goal," said Mark Landes, vice president of Finance and Advancement. "Once complete, these projects will absolutely have a positive impact on the Hesston College student experience. Nursing and athletics represent a significant portion of our student population, yet our facilities, originally built to accommodate much smaller programs, are lagging the enrollment growth in these areas. We need to catch up, and these projects will fulfill critical needs to serve our students well into the future."
Two lead gifts for the nursing portion of the campaign have been graciously provided by Carroll and Roberta Miller of Greeley, Colo., and Doug and Connie Dorsing of Fruitland, Idaho. The donors and college administrators have agreed that the nursing building will be named in honor of longtime nursing director, Bonnie Sowers, who will step down from the role on June 30 after 37 years of leadership and more than 40 years as a faculty member in the nursing program. A 9,740 square foot addition that will be added onto the existing building will be named the Bonnie Sowers Nursing Center.
"Roberta and I are pleased to be a small part of helping to create a legacy to a person very deserving and who has given a lifetime of her time, talents and resources to helping educate people and promote the nursing profession," said Carroll Miller.
The current nursing facility – Lemons Center, which was an addition to Charles Hall in 1996 – has not received updates in more than 20 years and is inadequate in size. Challenges in that space and in Charles Hall, which was dedicated in 1952 and is the second oldest standing building on campus, include limited space for simulation labs and other practice facilities, inadequate restrooms, limited space for commuting students during their down time, and inadequate faculty office space.
Campaign improvements will include a simulation lab, student practice rooms, a fundamentals lab, storage space, additional faculty offices, an administrative suite, a student lounge and study spaces. Some select areas within Charles Hall will also receive renovations and upgrades, which will benefit the natural sciences.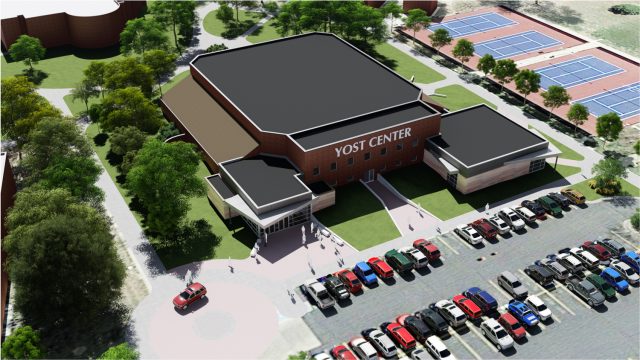 Hesston College Athletics has also grown over the years – primarily in the last decade. When Yost Center, the home of Lark Athletics, was built in 1982, Hesston fielded five intercollegiate teams. Today, the college fields 14 varsity teams, posing a space problem for the current athletic facilities and personnel.
Enhancements to the facilities include the addition of a 3,000 square foot weight room on the southwest side of Yost Center, a new, on-campus softball diamond, the addition of a new lobby on the northwest side of Yost Center, a coaches office suite, main gym renovation, remodel of the athletic training room, and the addition of a multi-purpose team room.
The college hopes to secure all funding by December 2018 and begin construction in early 2019.
Learn more about the capital campaign and see more renderings of the coming enhancements.