Hesston College alumni and friends are invited to take part in the college's annual Explore Kansas! trip to northeast Kansas, Sunday, Sept. 4. The 2016 chartered bus excursion includes attending Orchestra on the Oregon Trail (OOOT) near Marysville in Marshall County, Kan.
The original plan for this trip was to attend the Orchestra on the Oregon Trail near Marysville in Marshall County, Kan. Due to low ticket sales, that event has been canceled, but Hesston College has put different activities in its place.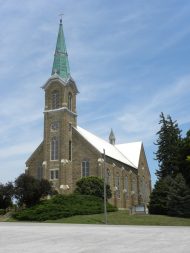 The day trip will start with taking part in Mass at St. Mary's Catholic Church (St. Benedict, Kan.), an Eight Wonders of Kansas Overall Finalist and Top Eight Art Wonder of Kansas, with a presentation about the church to follow. Hesston College music faculty member Ken Rodgers will play a mini concert on the church's 1916 Tracker pipe organ. The afternoon will include a stop at the Kansas Museum of History in Topeka, and culminate with a fried chicken dinner at Brookville Hotel in Abilene.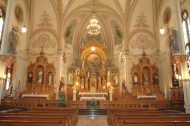 The cost for the trip is $75 per person. Reservations are encouraged as soon as possible as space is limited, and no later than Friday, Aug. 12. Call Alumni Relations at 620-327-8109 or toll free at 866-437-7866 to register. Tickets can be purchased by sending a check or via phone using credit card. Reservations are first come, first served and no refunds will be given.
Those who registered at a higher rate before the OOOT cancellation will receive a $20 refund.