The historic "Bloody Sunday" of March 7, 1965, happened more than 30 years before Hesston College students were born – even pre-dating some of their parents. Yet 50 years after that tragic day, the spirit of those civil rights heroes lives on. Hesston College students, faculty, staff, alumni and community members joined with thousands of others to commemorate important moments in the fight for civil rights and gained a new understanding for that important part of American history during a week-long Civil Rights Seminar over the college's spring break, March 7 to 14.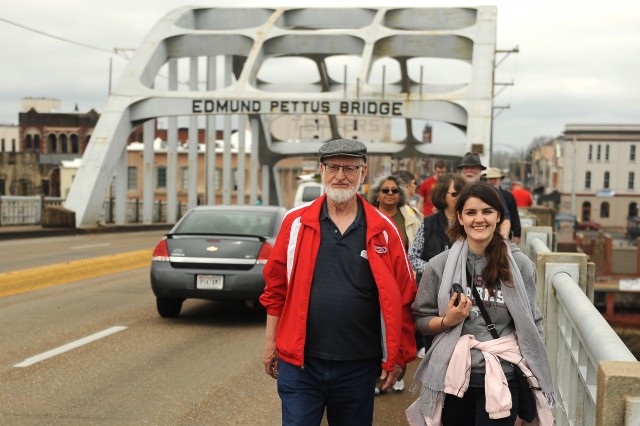 "I was exposed to a part of American history that is not easily thrown into a school textbook," said freshman Irena Xhari (Lezhë, Albania). "There were many lessons I learned by walking down the streets that hold bloody memories and walking into churches that have been witness to injustice and yet continue to trust in God while full of hope and vision."
The seminar, led by Hesston College faculty members Tony Brown and John Sharp and 1972 alumnus Bruce Rogers (Goshen, Ind.), started in Selma, Ala., March 7. The group joined tens of thousands from across the country for the commemoration of the marches from Selma to Montgomery, Ala., on the 50th anniversary of the first march. Known as "Bloody Sunday," the first march was marked by extreme violence endured by those peacefully protesting the injustices endured by the African-American community.
What would be an emotionally heavy, yet enlightening and inspiring week for the Hesston College contingent, started with stories of the march. Original marchers recounted heartache, courage and inspiration in their experiences. The Hesston group was moved by their history and buoyed by words of hope and unity for the future from President Barack Obama in Selma that day.
Participants followed the original path from the Brown Chapel A.M.E. Church down city streets and across the Edmund Pettus Bridge along US Highway 80. In this place 50 years earlier, children, teens and adults were attacked by sheriff's deputies and highway patrolmen with billy clubs, cattle prods and tear gas in a struggle for civil rights that had been guaranteed by the 15th Amendment 97 years prior.
"I have a new appreciation for the common people who put their lives on the line for the cause of freedom and equality," said Sharp, history and Bible instructor. "I also see more clearly how the powers were exposed – authorities, whose primary task was to protect and work for the common good, used violence to punish nonviolent activists who were challenging the U.S. to live its vaunted claims of freedom and justice for all. I understand in a new way that the struggle for justice must continue."
A visit to the National Civil Rights Museum at the Lorraine Motel in Memphis, site of Dr. King's assassination, was among many highlights of the week. "As I looked at old photos and learned about the civil rights history, what was interesting to me is that both sides were fighting for what they believed was right," said Carlota Ponds, Alumni and Church Relations office manager.
Other experiences throughout the week included churches, museums and historic sites in Birmingham, Montgomery and Selma, Ala. In Birmingham the group attended Sunday morning worship at the 16th Street Baptist Church, site of a 1963 bombing that took the lives of four young girls, and toured the Birmingham Civil Rights Institute and Ingram Park where officials used fire hoses and police dogs to attack demonstrators. Montgomery stops included the Rosa Parks Library and Museum; Dexter Avenue Baptist Church, Martin Luther King, Jr.'s first congregation; and City of St. Jude Historic District (Montgomery, Ala.) which provided nondiscriminatory health, education and social services during the height of the Civil Rights Movement. The group also interacted with Mennonite churches in Meridian and Philadelphia, Miss., that were formed in the 1960s as missions to end discrimination with voices and deeds of peace.
by Emily Kauffman and Rachel McMaster