Graduates of Hesston College's Class of 2014 were encouraged to take Hesston College values with them as they go everywhere during Commencement exercises May 11.
Commencement speakers Joyce Huber, nursing faculty, and Marelby Mosquera, natural science faculty, spoke on "Passport For Your Dream: From Here to Everywhere," highlighting the values of Christian community, diverse cultures, caring and joy as important for graduates to carry with them in their life and professional journeys.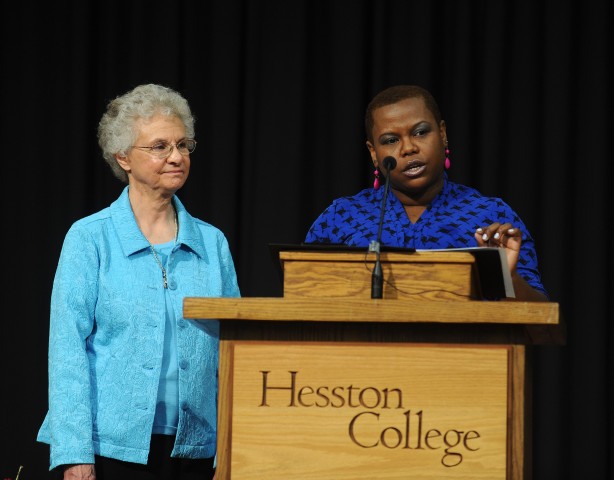 "Today as you graduate, take your passport, stamped with the Hesston College values you have experienced here – they will nurture your dreams as you go from here to everywhere," said Huber.
Huber has served as a member of the nursing faculty since 1973, and Mosquera, a 2004 Hesston College graduate, completed her first year as part of the science faculty.
Together, they commissioned the graduates with a blessing from Phillipians 4:23 – "Receive and experience the amazing grace of the master, Jesus Christ, deep, deep within yourself."
Presenting the student address were Nathan Peters (North Liberty, Iowa) and Hannah Weaver (Inola, Okla.). Student speakers were nominated by faculty and staff and chosen by their classmates.
President Howard Keim conferred 158 degrees for the Class of 2014 – 60 associate of arts degrees, 14 associate of science degrees, 80 associate of applied arts and sciences degrees and four associate of general studies degrees.
Individual student groups were recognized in special ceremonies May 10. Longtime Mennonite Disaster Service volunteer and member of the bi-national MDS Board of Directors, Paul Unruh  (Hesston), a 1958 Hesston Academy and 1960 Hesston College graduate, presented the message "The Power of Choice" at a recognition ceremony for five students completing the Disaster Management Program.
Marcy Renollet (Newton, Kan.), BSN, RN, CMSRN, a 1995 Hesston College graduate and risk manager at Via Christi Hospitals Wichita (Kan.), Inc., presented the message "This – or That?" at the nursing pinning ceremony recognizing 52 nursing graduates.
John Murray, lead pastor at Hesston Mennonite Church and a 1981 graduate, brought the message "The Heart That Sees God," for two graduates at the pastoral ministries commissioning.
The Aviation department honored eight professional pilot graduates and seven air traffic control graduates during a reception. Ken Kropf, a Hesston College flight instructor, brought the message.
View a video of the commencement service.