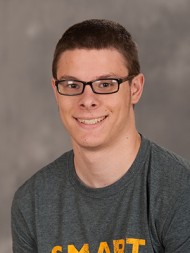 It may be the one thing every child hopes for – to have the tables turn and give direction to their parent. Hesston College sophomore JD Hershberger (Hesston, Kan.) is getting the opportunity with his first theatre directing gig in the one-act play "Sister Mary Ignatius Explains It All for You," in which his mother, Michele Hershberger, plays the lead.
The absurdist comedy takes a jab at ideologues who are more interested in being right rather than being polite and considerate of others opinions.
"When I was reading through the play, I could just see my mom as Sister Mary Ignatius," said JD. "She's really nothing like her character, but I knew she would fit the role just right and her experience with theatre enhances the humor of the play."
Michele is no stranger to the stage. Though she serves Hesston College as chair of the Bible and Ministry department, a writer and national speaker, she has often moonlighted with theatre roles and even teaches a Drama in the Church course.
The switch of direction from mother to son does not carry the battle of wills that one might expect in any other situation.
"She's been a joy to work with," said JD. "She knows theatre and acting, and she understands the vision I want to take."
While working with his mother has been the easy part for JD, who is planning to major in communication and minor in theatre, it's learning the intricacies and details of directing that has presented the learning curve for the first-time director.
"As a director, I can't just boss people around and force them to see the direction I want to take," said JD. "Actors have to organically come up with the idea of how their character should be, and it's my job to ask the right questions to have them understand the vision for the show."
Hesston College's directing course with theatre faculty member Laura Kraybill gives freshman and sophomore students the opportunity to direct a one-act show every year – a privilege often reserved for juniors and seniors at four-year institutions. With a cast and crew of nine people, JD has quickly learned that directing is a much more demanding job than he ever realized.
"I am learning all the thought that goes into the details of a show," he said. "I hadn't realized the careful planning and thought that goes into everything from set design to costuming – even the color of someone's shirt can have an impact."
Despite the waves of new information and ideas, JD is enjoying his first run at directing and grateful for the opportunity so early in his college career.
"I have had a lot of opportunities to be involved in theatre at Hesston College so far, and now directing has expanded my resume even more," said JD.
"Sister Mary Ignatius Explains It All for You" will be presented in two performances during the college's Thanksgiving Weekend, at 4:30 and 7 p.m. Friday, Nov. 29, in the Northlawn Studio Theatre on the Hesston College campus. The performances are free though a free-will donation will be collected to help offset production costs.
Seating is limited and will be granted on a first come first served basis.
The production's run time is about an hour and is rated PG-13 for content.